Spring 2021 Final Exam Schedule: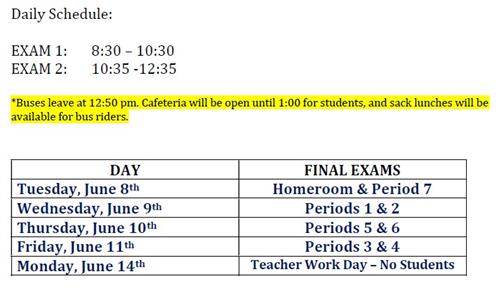 Student Dress Code for Face-to-Face Instruction:
Students are not required to wear SIS uniforms if attending face-to-face instruction on campus, but all clothing must adhere to free dress guidelines and be school appropriate.
Face coverings must be school appropriate and can be reusable cloth masks, scarves, or gaiters. Bandanas are not permitted. If a student arrives on campus without an appropriate face covering, they will be provided a disposable one.
Shorts, skits, and dresses must be fingertip length or longer. Bike shorts or tights should be worn underneath skirts.
No skin should be visible underneath ripped jeans. If a student wears jeans with holes or rips, tights should be worn underneath.
Students must wear shoes with a closed toe. House shoes, slides, and flip-flops are not permitted.
Jackets and hoodies should be school appropriate and free of offensive/crude language, symbols, and pictures. Blankets should not be worn to school as a jacket.
Hats, scarves, and other head coverings are prohibited unless for religious reasons.
Students who arrive on campus in clothing that does not meet free dress guidelines will not be allowed to participate in the instructional day. Parents/guardians will be called to provide appropriate clothing for the student to wear. The main office will be unable to provide loaner clothes.
Important resources for the start of the 2020-2021 school year:
To view assorted resources and files important for the start of the year in virtual instruction, please click this link.