Nora Sada
,
Principal
Phone: 713- 845-5600
---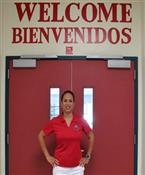 I am Nora Sada, the proud principal of Seguin. I am excited to serve as the instructional leader for this campus and
I count i
t as a privilege and honor. I often share with the team that our focus, each day, should be to ensure that children are learning at high levels; whether that's socially, emotionally, or academically. Is it a great deal of work?
Yes! But with consistency, team work and beginning with the end in mind, we are certain to succeed. And in the end, it is all worth it because we love our students!
Read more ...