Frequently Asked Questions:
Will students keep the same teachers whether they return in-person or stay virtual?
Yes, students will follow their individual schedules, whether they are learning in person or virtually.
We chose to return to school in person for the next 6 weeks. If we don't feel comfortable, can we change our minds and go back to virtual?
Yes, you can change back to virtual at any point. Please contact your grade level for further support. We cannot change from virtual to in-person at this point, however. You will have another opportunity to make the change for the third 6-weeks.
What is the foodservice option for lunchtime?
The food distribution lines serve grab-and-go style meals. The cafeteria will be set up with socially distanced desks for eating in a safe manner. Masks must be work unless the student is eating and/or drinking.
Where is the student entrance?
Students may enter through pre-labeled entrance Gates in orange: 2 (front by K); 3 (back @ Cage) and 4 (back by N).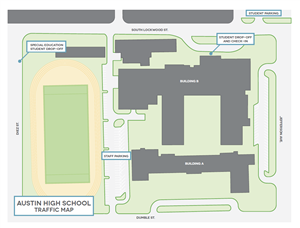 Is the virtual instruction/class going to be the same as in-person learning?
Instruction will continue as it has for all students. The synchronous (live) lesson will occur in the first 30 minutes of the class period; the asynchronous (recorded or pre-assigned) lesson will follow the next 60 minutes with the teacher providing support through MS Teams.
Will the school be shut down if 1 student tests positive?
Currently, the policy is to close the campus for cleaning if a student or employee who is COVID positive has been on campus. The District is working to have that done within one day.
Who qualifies for transportation?
The District is prioritizing students who qualify for Special Education and students who are homeless. At this time, transportation cannot be offered to students based on transfer type or distance from school.
If a child test positive for COVID-19, can a negative COVID-19 test allow the student to return earlier than the 14-day quarantine?
No. The student will be required to remain out for the full 14 days and until they are asymptomatic and fever-free for 24 hours without a fever reducer.
If my child was out of the country, can they come back to school immediately?
Currently, per the CDC we recommend that all travelers maintain a 14-day self-quarantine. The student will be required to attend their courses in a virtual setting.
I never got my schedule to see where the classes are so when we go back to school will I receive it the first day?
You can find your schedule and room numbers by logging into the HISD Connect Student Portal. https://www.houstonisd.org/domain/51654
If you need further support, please contact your grade level counselor.
Where do I go on the first day of school?
Take a picture of your schedule with classroom numbers. There will be people around the building to help you find your classroom.
"Large Gatherings" and Football -- I see there is a Football schedule. Is attendance limited to family only to avoid large gatherings?
Right now, we are limiting the purchase of tickets to family members of athletes and performers to maintain physical distancing in the stadiums.