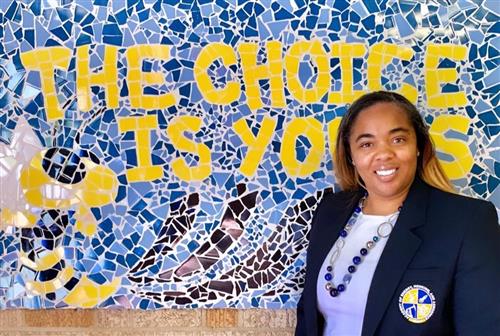 Phone: 713-845-7411
---
Greetings Hornets,
Welcome to the 2021-2022 school year. This promises to be a year filled with great opportunities for all of our students as we strive to find ways that we can be even better than we have before. During the 2021-2022 school year, we will commit to high standards and excellence in all that we do while maintaining a huge focus on wellness and safety.
We look forward to a very positive, safe, and productive year together. We strongly encourage the continued use of masks and are committed to following the guidelines that have been/will be set by the school district to ensure a safe and productive school year.
Our goals are set to ensure that Deady moves towards our vision with a 2021-2022 theme of Mission Possible. Together we will develop habits that sustain our growth and the possibilities that lie ahead.
Don't forget to mask up and wash your hands.
Saludos Hornets!
Bienvenidos al año escolar 2021-2022. Este promete ser un año lleno de grandes oportunidades para todos nuestros estudiantes mientras nos esforzamos por encontrar formas en las que podamos ser incluso mejores que antes. Durante el año escolar 2021-2022, nos comprometeremos con altos estándares y excelencia en todo lo que hacemos mientras mantenemos un gran enfoque en el bienestar y la seguridad.
Esperamos tener juntos un año muy positivo, seguro y productivo. Recomendamos encarecidamente el uso continuo de máscaras y estamos comprometidos a seguir las reglas que han sido / serán establecidas por el distrito escolar para garantizar un año escolar seguro y productivo.
Nuestras metas están establecidas para asegurar que Deady avance hacia nuestra visión con un tema 2021-2022 de Misión Posible. Juntos desarrollaremos hábitos que sustentan nuestro crecimiento y las posibilidades que tenemos por delante.
No se olvide de enmascarar y lavarse las manos.