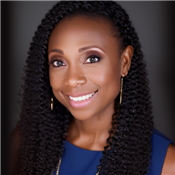 Nicole Williams, Principal
Phone: 713-867-5180
Email: Nicole.Williams2@houstonisd.org
---
Greetings Burrus Family,


Welcome to the 2023-2024 school year. Thank you for selecting Burrus Elementary as your school of choice! Our theme this year is Mission Possible: Accomplishing More in 23-24. We are thrilled to welcome you back to another exciting year at Burrus Elementary School. With great anticipation and enthusiasm, we are proud to unveil this year's theme. Just as secret agents embark on daring missions, our students are poised to embark on a journey of growth, exploration and achievement. This year, it is our goal to inspire and empower your children to reach new heights academically, socially and personally.
As we partner together this school year, our goal is to support scholars and their families by achieving optimal growth socially, emotionally, academically, and physically. To achieve this goal, I encourage you to seek out opportunities to partner with the campus and your child's teacher. We solicit your support with attendance and getting your child to school on time every day, as every minute of your child's education is important to us. Take advantage of attending our academic parent nights as well as our magnet showcases. Being an active participant in the school community shows our scholars that we are ALL invested in their growth and development.
The "Mission Possible" theme extends beyond the classroom. We encourage all parents to actively participate in our school community. Your involvement, whether through volunteering, attending events or supporting fundraisers, contributes to the success of our collective mission. As we embark on this incredible journey together, we want to express our gratitude for your unwavering support. Your trust in us fuels our commitment to provide a safe, nurturing, and inspiring environment for your children.
Again, thank you for selecting Burrus Elementary as your school of choice and for your continued support and cooperation! We look forward to partnering with you this school year to ensure that every student at Burrus receives equitable opportunities and high-quality teaching and learning.
Best Regards,
Nicole Williams, Principal
Burrus Fine Arts Magnet Elementary School

Sincerely,
Nicole Williams, Principal