Dear BCMAR Students and Families,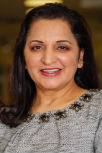 On behalf of the faculty and staff at the Baylor College of Medicine Academy at James D Ryan MS, I would like to welcome everyone to this school year. We look forward to an exhilarating and challenging year of learning and growth. At the Baylor College of Medicine Academy at James D Ryan MS we will create meaningful and lasting traditions, and foster intellectual growth in a rigorous learning environment. With project-based and hands-on learning, high school credits in 7th and 8th grade and exposure to pathways in Biomedical science, our students will have opportunities to become college and career ready at an early age. We will provide a unique and accelerated curriculum and real-world experiences in science and health, with the goal of preparing our students for success at DeBakey High School for Health Professions, or any other rigorous and prestigious school. Please stay connected and involved as we embark on this journey to educate and prepare outstanding global citizens!
Honorary Doctorate of Humanities in Medicine, BCM
---
Baylor College of Medicine Academy at Ryan from Houston ISD on Vimeo.