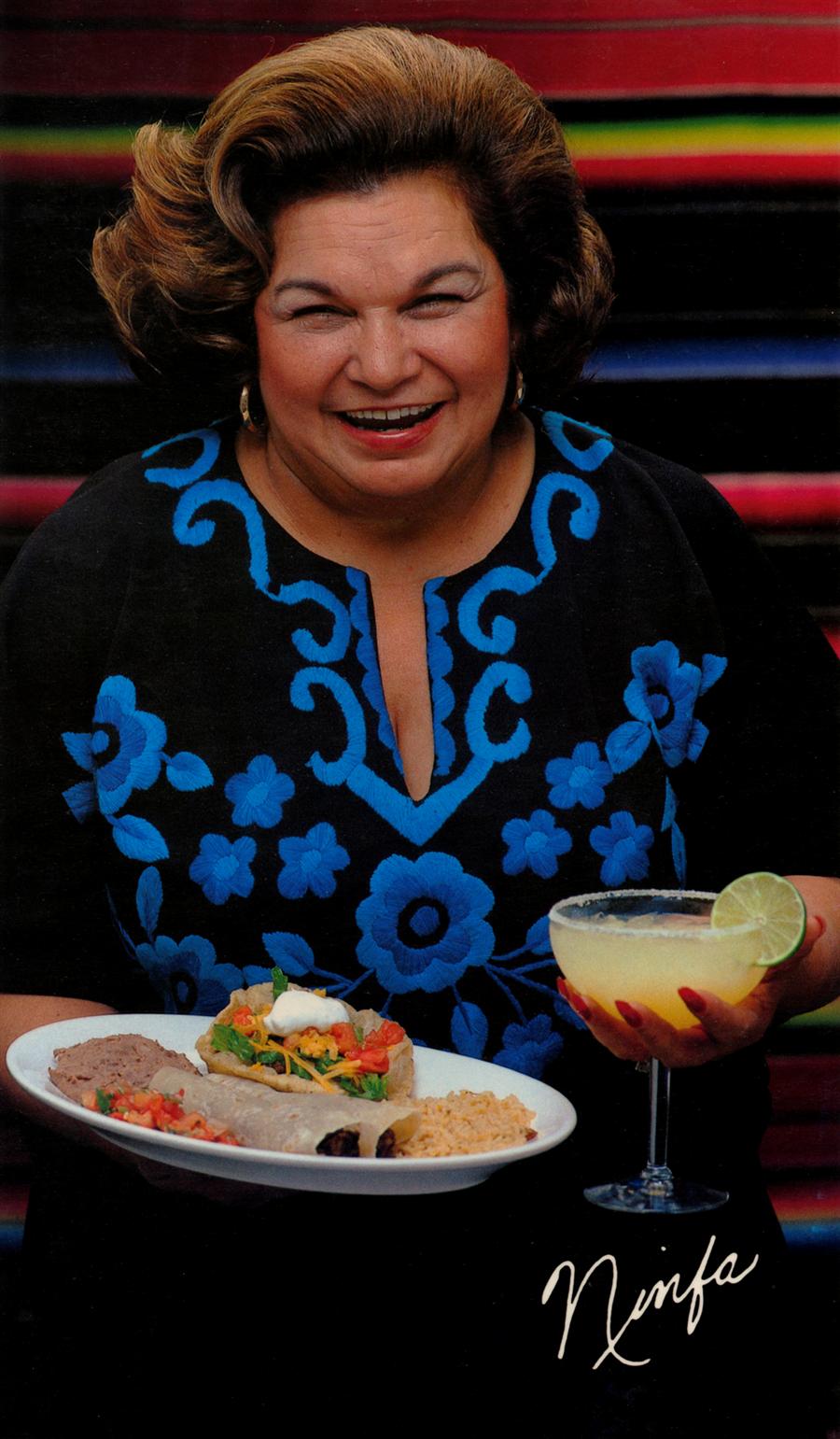 NINFA RODRIGUEZ LAURENZO

Ninfa Rodriguez Laurenzo was born May 11, 1924 in Harlingen Texas. One of twelve brothers and sisters, her parents were small farmers and had very little. After graduating High School, Ninfa went to a small business college in Harlingen. There, she met and married Domenic Thomas Laurenzo, who was of Italian decent and the couple opened up the Rio Grande Tortilla factory in the East end of Houston on Navigation, selling pizza dough and tortillas. In 1969, Ninfa's husband died suddenly, leaving her to raise five children. Ninfa mortgaged her house and opened a little taqueria on the site of the tortilla factory. In 1973, she opened a ten-table restaurant, serving her mother's recipes and adding her own. With money from a friend in Mexico, Ninfa soon opened a second dining room and later pushed out a wall to expand again. Within ten years, the single restaurant expanded into a multi-million dollar business with nine restaurants in Houston and one in Dallas. By 1985, Ninfa employed 800-1000 people and served about two million people per year.

Some believe that Ninfa Laurenzo laid the foundation for the Mexican restaurant industry in Houston. With her success, Ninfa gave back to the community with nonprofit service. She served on the boards of the Gulf Coast Regional Blood Center, Houston Community College System, Houston Metropolitan Transit Authority and the Houston Hispanic Forum. She received many awards such as the U.S. Hispanic Chamber of Commerce business award. In 1984, Vice-President George Bush appointed her to be one of five goodwill ambassadors to welcome Pope John Paul II to Puerto Rico.

Ninfa was inducted into the Texas Womens Hall of Fame in 1998, and Theater under the Stars made her life into a musical. Ninfa Laurenzo represented her community poitically as well. In 1988, Ninfa seconded George H. W. Bush's nomination for President at the Republican convention in Houston.

Mama Ninfa endeavored to make the East end of Houston a better place to live and work. She gave it the recognition needed to develop into the growing community that it is.

Mama Ninfa passed away in 2001 but her legacy of good deeds and good will towards others is remembered by many and is an example for others to follow.

Ninfa Laurenzo Early Childhood Center is one of the first two facilities built by HISD to serve prekindergarten students exclusively, opened in the autumn of 2004. The school was named after Ninfa Rodríguez Laurenzo because she was a much-loved Houston restaurateur and community leader who recognized the importance of education in child development early on. The school named after her is located at 205 North Delmar, in the same neighborhood as her original restaurant.