Frequently Asked Questions
What are the building hours?
7:45 AM - 4:30 PM
What are the instructional hours?
8:30 AM - 4:00 PM
What is the school main office number?
713-226-4543
What is the arrival & dismissal procedures?
Arrival:
Students who arrive at school by car may be dropped off at the FRONT of the building beginning at 7:45 a.m.
Students must remain in vehicle until temperature is taken by a Wellness Team Member.
Students who fail temperature screener will not be allowed in the building.
Students will exit vehicle wearing proper PPE and enter through the main entrance doors.
Students' temperature will be taken by a Wellness Team Member.
Students will report to the cafeteria or MPR
Students who arrive after 8:30 a.m. must be accompanied by a parent/guardian to the front office to sign in.
Students who arrive after 10:30 a.m. will be counted absent for the day.
Dismissal:
All bus riders will be dismissed to the bus pick up area near the BACK of the school.
Parents/guardians should pick up car riders at the FRONT of the school. 6th grade students will be released at the flagpole and 7th/8th grade students will be released from Settergast Park hardtop. This enhances safety by separating bus transportation from cars.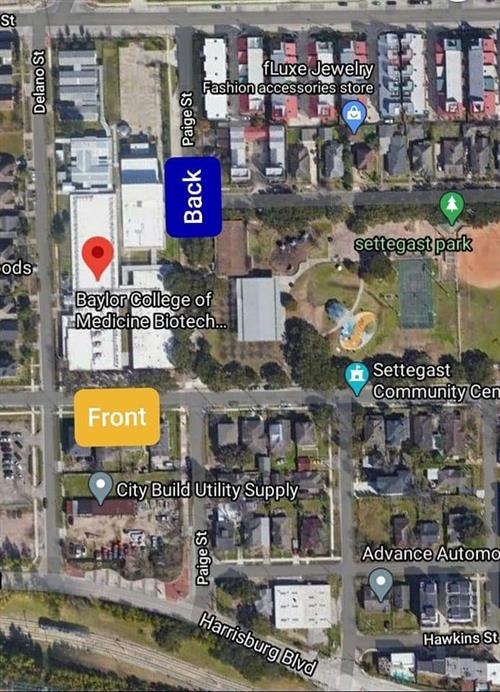 Do I have to wear a mask?
Yes.
How do I access my student email?
Sign into office365.houstonisd.org
Can I bring my phone to school?
Yes. However, phones must be turned off during the instructional day.
What if I get caught using my phone when I'm not supposed to?
If you use your phone when you are not allowed to use it, such as in the hallways, it will be confiscated. You will be able to pick it up from the main office after paying a $15 fee.
What if my parents need to contact me?
They can call the front office (713) 226-4543 and we will get the message to you.
Can I bring my personal laptop?
Yes, however it is your responsibility to keep up with your device.
Do we bring our laptops to school everyday?
Yes
Will we be on computers all day?
No. The laptop will be a tool to support in-person instruction. Sometimes you may not use it at all.
What are the expectations for how we treat our laptops?
I will follow classroom rules for the laptop set up by my classroom teacher.
I will be on-task in class and am aware of the off-task consequences.

First offense: Verbal warning
Second offense: Description of issue (with screenshot if possible) to be sent home and CC teacher
Third offense: Loss of device for class; individual alternate assignment
Persistent offenses: Office referral

I will bring a fully-charged laptop to school every day.
I will handle my laptop carefully and respectfully.
I will not leave the laptop unattended.
I will not loan my laptop to another individual without teacher permission.
I will keep food and beverages away from my laptop.
I will keep my passwords private.
I will not take unauthorized or inappropriate photos/videos.
I understand that my laptop is the property of Houston ISD and can be inspected at any time without notice.
I understand that I should back up content on my laptop to Google Drive or OneDrive in order to avoid losing my work.
I will connect to the appropriate network while at school,and will connect to my home network at home. If I need any assistance connecting, I will contact Mr. Rodriguez as soon as possible.
I will report loss, theft, or damage immediately.
Can students choose to attend school virtually?
No. All students should return to in-person learning. If a student has COVID, there will be temporary online learning provided by HISD.
Are we using the HUB?
Yes.
Will the lunches be in bags?
No. The food service line will be open this year!
Are the microwaves available for lunch?
No, they are not.
Will we have assigned seats at lunch?
Yes. Seats will be assigned for contact tracing purposes .
Will there be after school activities this year?
Yes! We are back on schedule with athletics. You will receive more information during the first week of school.
Where can I find information about HISD transportation?
Please visit the HISD transportation website.
What role does the campus have in regards to HISD transportation?
Campus personnel have the ability to input transportation requests into PowerSchool/HISD Connect and we can look up student route/stop information using the HISD transportation provided rosters. We also ensure bus riders get on buses safely in the afternoon. That is the extent of our capabilities.

Who is eligible for transportation?
Students who reside two or more miles (as measured along the shortest route that may be traveled on public roads) from their assigned campuses are eligible for transportation services at district-designated stops.
How do we request transportation?
You can email Ms. Butler at sbutler5@houstonisd.org to request a transportation request be input into PowerSchool/HISD Connect. Please note that it may take up to two weeks for a transportation request to be approved and a route/stop to be assigned.
Can I choose my route/stop?
The HISD transportation department assigns all bus routes/stops for HISD students, that is not done at the campus level. Routes/stops are based on the address in our PowerSchool/HISD Connect system. Please make sure your address is up to date.
Where do we get our bus route/stop information?
HISD transportation sends route/stop information to parents via phone, email, and/or USPS. Please make sure your contact information is correct in PowerSchool/HISD Connect.
Where do we get our bus badges?
HISD transportation will send bus badges to the campus within the first month of school, we will then distribute the badges to our bus riders. Students will be able to ride the bus without their bus badge until they receive it from the campus.
How do we change our bus route/stop?
Rusk does not have the ability to change assigned bus routes/ stops. Parents can use the HISD transportation let's talk feature to request changes to bus routes/stops or to communicate route/stop concerns.
What is the 2022 Dress Code Policy?
The use and wear of school uniforms will be optional for the 2021-2022 school year . However the following dress code has been established for students at Baylor College of Medicine Biotech Academy at Rusk
All Students:
Items that promote drugs, alcohol, tobacco, violence, nudity, obscene messages or has any slogan , or picture which is not in good taste or demeaning to any group or gender is inappropriate and prohibited.

Skirts, dresses, shorts must hang past fingertip in the front of the garment. Running and athletic shorts must be appropriate length.

Jeans should not have holes, rips or tears.

Tops must cover chest, back, stomach and shoulders (4 finger width).

All shoes must be enclosed and fastened/tied properly. Slides, flip flops, and Crocs are not allowed at any time.

No headgear (hats, knit caps, scarves, do-rags, head bands, sunglasses, bandanas). Hoods may NOT be worn inside of the building.
2021-2022 School-wide 2021-2022 School Supply List
1 - pencil pouch
1 – package of colored pencils
1 - box of # 2 pencils
1 – package pens (blue or black)
1 – package of notebook paper
1 – 2-inch 3 ring binder with pockets
1 – set of 8-tab plastic binder dividers
1 – pair metal pointed scissors
1 – package of highlighters
1 -100 count package of index cards (5" x 8")
1 – package quadrille graph paper (quarter inch)
1 – pair of headphones or ear buds
2 – large glue sticks
5 - spiral notebooks