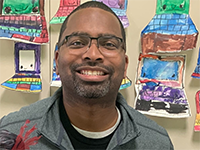 Greetings Shadowbriar Community,


I am very excited to welcome you to the 2021-2022 school year. This is going to be an amazing school year, and I am looking forward to working with each of you to create a positive school environment with high expectations for all students.


This year's theme "Back To The Future: Reflect, Reform, Results" speaks to our commitment to significantly improving student outcomes by reflecting on our practices to create quality teaching and learning experiences.


I am committed to learning with excellence, no excuses! All decisions will be made in the best interest of learning, equity in student achievement, and safety. We will work tirelessly to ensure that our children are prepared for the next grade-level, middle school, high school, college, careers, and beyond.


Welcome back again, and I look forward to partnering with each of you to ensure academic success for our students, families, and community. Let's have a great year.


Bulldogs Rising-Bulldog Strong!


Mark Samuel
Principal