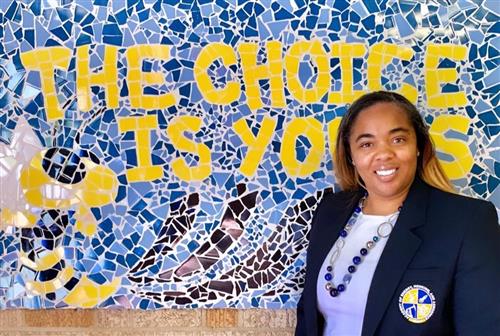 Phone: 713-845-7411
---
Greetings Hornets,
We are so excited to welcome you to the Hornet Hive! This promises to be a year filled with great opportunities for all of our students. During the 2022-2023 school year, we will commit to high standards and excellence in all that we do. We invite and encourage students and parents to work in partnership with us to seize opportunities at the school.
We look forward to a very positive, safe, and productive year together and extend a special, yearlong invitation to our families to join us at school activities and events whenever possible. We want and value your involvement and support in your child's education. Your active participation is key to the success of your child during his/her middle school years.
Our goals are set to ensure that Deady moves towards our vision with a 2022-2023 motto of Excellence Everyday in Every Way. We can't wait for you to join us. Welcome again to a great, new school year!
Saludos Hornets!
¡Estamos muy emocionados de darle la bienvenida a Hornet Hive! Este promete ser un año lleno de grandes oportunidades para todos nuestros estudiantes. Durante el año escolar 2022-2023, nos comprometeremos con altos estándares y excelencia en todo lo que hacemos. Invitamos y alentamos a los estudiantes y padres a trabajar en union con nosotros para aprovechar las oportunidades en la escuela.
Esperamos tener un año muy positivo, seguro y productivo juntos y extendemos una invitación especial de todo el año a nuestras familias para que se unan a nosotros en las actividades y eventos escolares siempre que sea posible. Queremos y valoramos su participación y apoyo en la educación de su hijo. Su participación activa es clave para el éxito de su hijo durante sus años de escuela intermedia.
Nuestros objetivos están establecidos para garantizar que Deady avance hacia nuestra visión con un motto 2022-2023 de Excelencia todos los días en todos los sentidos. No podemos esperar a que te unas a nosotros. ¡Bienvenidos de nuevo a un gran nuevo año escolar!