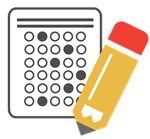 Hello Cougar families!
Due to STAAR testing, campus will be closed to all visitors on Tuesday, May 11th & Wednesday, May 12th.
6th, 7th and 8th Grade will be on campus for STAAR Testing.
Hola familias Cougar!
Debido a las pruebas staar, el campus estará cerrado a todos los visitantes el martes 11 de mayo y el miércoles 12 de mayo.
6º, 7º y 8º grado estarán en el campus para las pruebas STAAR.