Fine Arts
Welcome to the Paul Revere Middle School Fine Arts Department. Revere is one of the few middle schools in the district to have six fine arts disciplines: Art, Band, Choir, Dance, Piano, and Theater Arts. All disciplines are active on campus and in the community.
Mission

Paul Revere Middle School's Fine Arts Department thrives on educating students grades 6th through 8th and throughout the community through a hands-on contextual learning approach. By exploring the theory and techniques of various art forms, Paul Revere's Fine Arts Department promotes arts appreciation and stimulates creative growth and development for lifelong learning.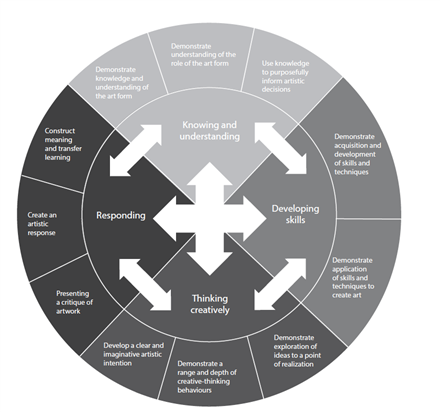 Beginning Art
Intermediate Art
Advanced Art
Art I (High School Credit Class)

Band

Beginning
Intermediate
Advanced

Choir

Beginning
Girls' Choir
Boys' Choir

Beginning
Intermediate
Advanced - Dance Company

Piano

Theater

Beginning
Intermediate
Advanced Tech

Revere Middle School is a candidate school for the Middle Year Program (MYP) of the International Baccalaureate Program. In MYP arts students have opportunities to function as artists, as well as learners of the arts.

The aims of MYP arts are to encourage and enable students to

:

• develop skills specific to the discipline

• engage in a process of creative exploration and (self-)discovery

• make purposeful connections between investigation and practice

• understand the relationship between art and its contexts

• respond to and reflect on art

• deepen their understanding of the world.

The objectives of arts in the program encompass the factual, conceptual, procedural, and metacognitive dimensions of knowledge. These objectives include: knowing & understanding, developing skills, thinking creatively, and responding.