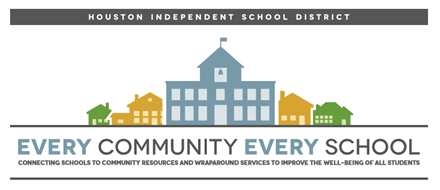 With support from the city of Houston and with funding from the Houston Endowment, HISD has developed Every Community Every School, a comprehensive initiative to connect schools to non-academic

supports needed to improve the well-being and academic achievement of all students. Often called wraparound services, these non-academic supports address critical issues such as mental health and

physical health needs, food insecurity, lack of stable housing, violence, incarceration of a parent, and many other challenges that can have adverse effects on a student's readiness and ability to learn. When

wraparound services are provided in tandem with strong academics and high-quality teaching, schools can truly meet the needs of the whole child and graduate students who are college and career ready.

---

Con el apoyo de la ciudad de Houston y fondos proporcionados por Houston Endowment, HISD ha creado la iniciativa "En cada comunidad, en cada escuela", un plan diseñado para conectar las escuelas

con recursos de apoyo no académico que son necesarios para promover el bienestar general de los estudiantes. Comúnmente llamados servicios integrados, estos recursos se emplean para remediar

situaciones adversas de gran incidencia en la vida de un niño, como lo son las carencias de la salud mental y física, la inseguridad alimentaria, la falta de vivienda estable, el encarcelamiento de uno de

los padres, y muchos otros obstáculos que tienen un impacto negativo en las aptitudes del estudiante y su disposición para aprender. Cuando se brindan servicios integrados en combinación con programas

académicos sólidos y enseñanza de alta calidad, las escuelas pueden llegar a satisfacer las necesidades de cada niño en conjunto, y los estudiantes egresan preparados para la universidad y sus futuras

carreras y ocupaciones.