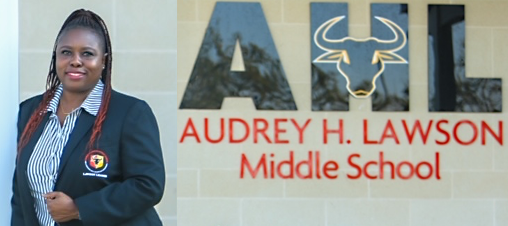 Greetings Longhorn Family,
My name is Keoshya Dunn and it is with great pleasure that I introduce myself as the Principal of Audrey H. Lawson Middle School. As a product of HISD and the Hiram Clarke community, I am proud and honored to lead at a school I once attended. I am extremely excited to begin the 2020-2021 school year with the opportunity to continue pushing and enhancing the work started a few years ago. I have no doubt that as a community, we will continue to meet the needs of our scholars and reach our campus goal of becoming a "B" campus.
Although this school year will be somewhat different than what we are used to, our collaborative, encouraging, supportive, family-oriented culture will remain the same. We are devoted to loving, serving, and caring for all stakeholders' social, emotional, and academic needs as we elevate our learning community during this COVID-19 pandemic and beyond.
At Lawson Middle School, we believe every scholar has the ability to achieve greatness. To ensure all scholars reach their maximum potential, campus leadership and teachers will partner to create opportunities for collaborative learning that will allow scholars to challenge and support one another's thinking and take ownership of their learning. We will continue to promote literacy across all contents and integrate digital resources to increase student achievement in the virtual and face to face setting.
As we all know, it takes a village and we as campus leadership, teachers, parents, and community partners are the stakeholders that make up the village. I extend to the village an invitation to support Lawson Middle School as trailblazers leading the way for lasting experiences our scholars will carry with them as they advance through their school careers and transition to becoming productive citizens.
With Gratitude,
Keoshya Dunn, Principal
~ Principal Keoshya Dunn's Bio