Return to Headlines
Ches Smith: March 2011 Employee of the Month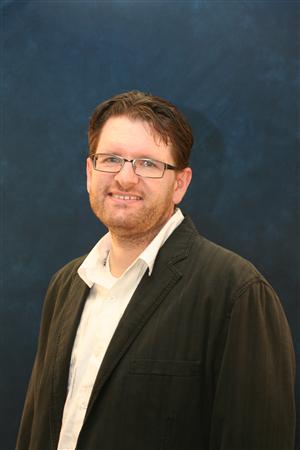 Ches Smith, Employee of the Month for March, is a campus network specialist at Johnston Middle School. He joined Team HISD in 2006, after being hired by that same school as a part-time computer technician.
As a campus network specialist, Smith's primary task is to make sure that all of the computer systems at Johnston are functioning properly. In addition, he maintains the school's electronic files and documents, updates the campus website, provides technical assistance to staff members, and generates data for student assessments. Last September, Smith was also responsible for coordinating HISD's very first downlink from NASA. He supervised the entire process, which included cabling the school in two locations, setting up sophisticated equipment, and maintaining the very delicate audio balance between microphone, television, and satellite in the auditorium.
A native Houstonian and a product of Alief ISD, Smith graduated from Howard Payne University in 1996 with a bachelor's degree in biblical studies and a minor in philosophy. He now lives in Sugar Land with his wife and their three children. When not working, Smith enjoys reading, watching films, and working on creative-writing and painting projects.
"I have never met another non-teaching professional who better understands what it means to support the work of teachers in a professional learning community," said Principal Dave Wheat. "His approach is very simple: teachers ask for help, and he provides it immediately. He does not require them to fill out any forms or suffer through long delays. Also, Ches is amazingly quick at getting student data back to teachers. Recently, he had eighth-grade reading and math test scores scanned and sent before the end of the day on which the students took them. Simply amazing."
"Ches is a great employee and colleague," added Dean of Students Amber Pinchback. "I have never heard him utter the words, 'That's not my job.' Ches does whatever it takes to support teachers with their technology needs and to support student achievement."
"Some people get busy, tired, or just have too much to do," explained teacher Lanena Berry. "Not Ches Smith. The man is a machine. He can fix just about any problem dealing with computers or equipment, and he does it with grace and precision. He takes just a second to analyze the problem, and then a few minutes later it is fixed, and he has moved on to the next challenge. When he breathes is beyond me."