Return to Headlines
Amelia Escobar: August 2011 Employee of the Month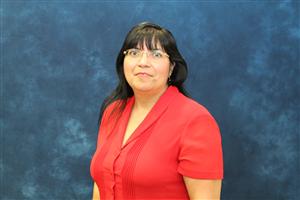 Amelia Escobar
, Employee of the Month for
August
, is the secretary at Briscoe Elementary School, a position she has held since September 1983. She first came to the district the previous fall, but was promoted when her predecessor retired.
Escobar is known for her warm, welcoming demeanor and her never-flagging eagerness to help others. As the secretary, she is responsible for scheduling meetings, ordering materials, preparing payroll, handling correspondence, requesting substitutes, maintaining the campus's master calendar, and managing the school's budget. She also assists the clerks in greeting campus visitors and answering phone calls, and helps out with cafeteria and bus/carpooling duties. In addition, Escobar reviews the agendas and minutes of all Shared Decision- Making Committee and faculty meetings, assists with the coordination of campus dual-language nights and parent workshops, and helps schedule activities related to the school's various community partnerships.
A lifelong Houstonian, Escobar is a graduate of Stephen F. Austin High School (Class of 1976) and a recipient of one of Houston Parents for Public Schools' inaugural Guiding Star Awards for 2011. When not working, she enjoys traveling, working in her yard, walking in the neighborhood park, helping her church, and spending time with her family.
"A dedicated secretary and one of the finest in the educational field, Amelia Escobar has demonstrated her commitment to the students for the past 29 years," said Briscoe Elementary School Principal Juan Gonzalez. "Intelligent, knowledgeable, and conscientious, her presence in the main office creates a sense of comfort and stability. I appreciate her candor."
"Amelia Escobar is one in a million," said Briscoe Elementary School Librarian/Lead Math Teacher Eileen Weinstein. "She is on top of any problem, dilemma, or situation, and always manages to come up with a solution. She is a very thoughtful person and a joy to be around. She lights up the office."
"Amelia is the backbone of our school and I cannot think of anyone more dedicated," said Briscoe Elementary School Teacher Lisa Virgadamo. "I know I can always count on her for professional help and advice, and I have worked with her for 17 years."