Crystal Ardoin-Richmond: March 2014 Employee of the Month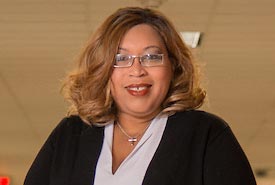 Crystal Ardoin-Richmond, Employee of the Month for March, is the instructional coordinator at Black Middle School, a position she has held for eight years. She has been with the district since 1995, when she joined Team HISD as a substitute teacher at Fleming Middle School. Over the years, she has also served as a teacher at Cage Elementary School/Project Chrysalis, the dean of instruction at Edison Middle School, a parent manager for the (now defunct) Central Region office, and an assistant principal at Scarborough High School.
At her current campus, Ardoin-Richmond serves as the campus disciplinarian, the Title I and testing coordinators, the administrative lead for language arts and writing, and the leader of the campus culture committee. She is also responsible for leading the new teacher collaborative team, through which she mentors new teachers and shares best practices on instruction and classroom management. Two years ago, she also founded iClubs, a program that matches campus staff with an area of expertise with students who share an interest in that subject. She has also been active on the Shared Decision Making Committee, the Courtesy Committee, and the Safety Committee and has served as a faculty advisor for Teacher For America.
Ardoin-Richmond is no stranger to recognition. She has been named Teacher of the Year three times at the campus level, and three times by the Houston Area Alliance of Black School Educators.
Ardoin-Richmond lives in Houston and in her spare time, she enjoys reading, "retail therapy" (thrift store shopping), and spending time with friends and family. She is also working on her doctorate in educational leadership and supervision, which she expects to complete in 2016.
"Ms. Richmond is our school's biggest cheerleader, and she goes out of her way to ensure that students' needs are met," explains Principal Meilin Jao. "She always has food in her office in case children are hungry but don't have the means to purchase a snack. She also purchases uniforms with her own funds for kids who can't afford them and goes to thrift stores to buy dresses and suits so students have them for important events."

"Crystal is a major force behind the great things happening at Frank Black Middle School," said Travis Elementary School principal Tom Day, who formerly served as an assistant principal at Black Middle School. "I learned a great deal during my five years of working with her. She is at the forefront, supporting teachers and staff, and advocating for students. Crystal has developed innovative programs -- like iClubs -- to support student learning and build a positive campus culture. Behind the scenes, her skillful communication with parents helps develop a partnership that benefits students. She builds relationships with students and helps them overcome personal obstacles. Crystal has a strong work ethic and a great sense of humor. On tough days, you can count on her for a much-needed laugh and unconditional support."
"Crystal has an amazing rapport with both students and parents," said Black Middle School registrar Barbara Johnson, who is a good friend of Ardoin-Richardson. "If parents are upset for some reason, she can calm them down, and they end up loving her. Crystal is such a giving person – she's like an angel who fell from the sky. She is gifted in so many ways – she keeps the staff morale high with her sense of humor and positive attitude. We really miss her when she is off-campus."