Quinten Flannel: April 2014 Employee of the Month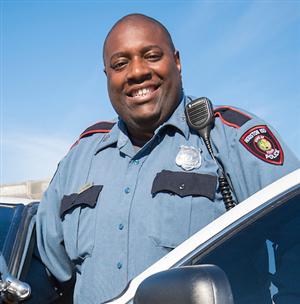 Quinten Flannel, Employee of the Month for April, is an officer with HISD's Police Department, a position he has held for 18 years. He started off as a campus officer at Thomas Middle School when he first joined Team HISD in 1996, but he has also served in that capacity at Sterling High School, Attucks Middle School, and other campuses.
Today, Flannel's formal title is "patrol officer," but his duties range from investigating accidents and conducting traffic flow studies to serving as a field trainer for new officers. "Mostly, my job is to teach them about district and departmental policy," he said, "and to point out the variations between traditional law enforcement and school law enforcement. Since most of the people we interact with are juveniles, it's all about being approachable, and developing a rapport with our clientele." Still, that doesn't mean Flannel doesn't fight crime. He was one of two HISD officers (one still a trainee) who apprehended and arrested the suspects in a bank robbery last November.
A native Houstonian, Officer Flannel is a proud member of Kashmere High School's Class of 1992. He is also a member of the Texas Municipal Police Association and serves as the vice president of the HISD Police Association.
Officer Flannel lives in Rosharon with his wife of 14 years, K'Lah, and four of their five children. In his spare time, he enjoys bowling, participating in church activities, and spending time with friends and family.
"Over the course of his career, Officer Flannel has trained countless police officers, including myself," explains Sgt. Tridung Tran, who now supervises Flannel. "The difference is in the support he provides. He goes out of his way to follow up with his trainees, to make sure that the district gets the most qualified and well-trained police officers. His commitment and dedication are second to none."
"I've been the field training supervisor for the last year, and Officer Flannel has given our new-hire officers exceptional training," added Sgt. Juan Mellado. "He is extremely knowledgeable, and we consider him a subject matter expert on just about everything. He is very approachable and other officers call him on a regular basis because of his expertise on the patrol aspect of our job. Whether it's booking, processing, report writing, or any other subject, he is an example of what we want officers to have knowledge in."
"I've known Officer Flannel for more than 10 years," adds Officer Otis Simmons, "and he's one of our very best field training officers. He is well-versed in every aspect of law enforcement and always available. And in the rare event that he doesn't know something, he will conduct the research and get back to you. I have never heard him tell anyone 'No.'
"I have a list of five people that I call for advice or help, and he's on it."