Rachel Reedy: May 2014 Employee of the Month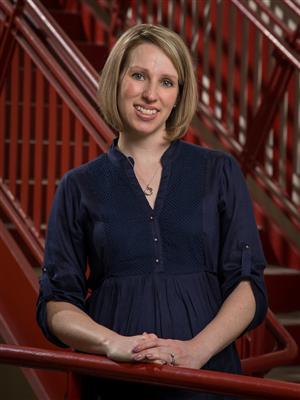 Rachel Reedy, Employee of the Month for May, is a social worker at Challenge Early College High School, a position she has held since moving to Houston four years ago. She has also served as a social worker at high schools in Fayetteville, Ark.; Tulsa, Okla.; O'Fallon, Ill.; and St. Louis, Mo.
Reedy describes her main function as "breaking down any barriers that get in the way of student success," whether they are learning disabilities, emotional problems, substance abuse issues, or family troubles at home. She also serves as the Mentoring Club sponsor, recruits community partners to support school activities, coordinates accommodations for students who have disabilities, and works with the attendance clerk and parents to help students who are chronically tardy or absent.
Originally from Oklahoma, Reedy now lives in Cypress with her husband of five years, Bill. They are expecting their first child, a son, in mid-June. When not working, Reedy enjoys cooking, baking, teaching Zumba classes, reading, and participating in book clubs.
"My son has some significant learning differences" said parent Lisa Brooks. "But Ms. Reedy helped get him accommodations in the classroom even before receiving his test results. As a result, my son had a spectacular first year of high school. He has blossomed, and is a confident student. I am sure that without Ms. Reedy's dedicated support and accessibility, he would not have had the amazing first year that he did."
"Ms. Reedy is wonderful and an awesome multi-tasker," added Principal Tonya Miller. "She is very resourceful and concerned about the social and emotional health of our students. After one student's friend committed suicide, Ms. Reedy helped her organize a suicide prevention rally, even finding a professional organization to underwrite it. Anything the students want, she tries to make it happen—and she does whatever she has to, to make those events successful."
"I think of Ms. Reedy as one of the essential members of our team," adds Dean of Students Gastonia Goodman. "Because we're an early college high school, our kids are under a lot of pressure to grow up. They start taking college courses during their sophomore year, and that can be a challenge. She coordinates one of our most critical programs, the ASSIST program, to make sure students who are struggling are successful both academically and personally."