James Harding: June 2014 Employee of the Month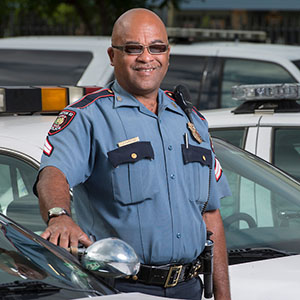 Corporal James Harding, Employee of the Month for June, is an officer with the HISD Police Department. He first joined the district in 1984 as a campus officer, but he moved to general patrol duties upon his promotion to corporal in 2008.
Currently, Cpl. Harding serves as the Police Department's fleet manager. In that position, he is responsible for monitoring and maintaining the many types of specialized equipment found in the force's cars (such as radios, computers, and more), and working with vendors to make repairs and upgrades when necessary. He also serves as an after-hours security detail with the Twilight Schools program, and he works regularly with Student Support Services to recover dropouts, including through Youth Watch. Last year, he also personally coordinated the collection of 25 gently used garments for donation to Yates High School's winter coat drive.
A native Houstonian, Cpl. Harding is a proud member of Lamar High School's Class of 1977. When not working, he lives in Houston, and enjoys barbecuing, working on his 1985 Chevy truck, and spending time with his children and grandchildren.
"We have more than 100 cars in our fleet, and Cpl. Harding treats them all like his own personal vehicles," explains his supervisor, Lt. James Bridges. "He makes sure all of our emergency equipment stays uniform, so that no matter who gets in a vehicle, they'll find the light switches, video, radio, etc. all in the same place. When an officer is responding to an emergency situation, even having to look down for a second is a dangerous distraction."
"Cpl. Harding is known for his diligence," adds Lt. Raul Garivey. "He has a bulldog mentality, and will stay with whatever task he's assigned until it's completed. He is also very easily supervised. You can give him a task and just walk away, knowing it's going to be handled. Our motto in the department is 'adapt, adjust, and overcome,' and that's just what he does."
"When HISD rolled out the Youth Watch program, I saw Cpl. Harding act as a mediator, counselor, and comforter to each student he came in contact with, even making early morning, night, and weekend phone calls," says Westbury High School At-Risk Program Administrator Craig Zeno. "Because of Cpl. Harding's hard work, Yates High School's estimated dropout rate for 2014 was 3.2 percent."