Maria I. Gonzalez: July 2014 Employee of the Month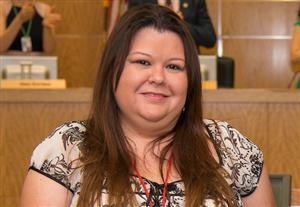 Maria I. Gonzalez, Employee of the Month for July, is a clerk with the Benefits department in Workers Compensation. She joined Team HISD in February of 2013 after a 10-year stint in the medical insurance field.
Although many of Gonzalez's day-to-day duties are clerical, most of her time is now spent processing and investigating unemployment claims. In fact, by working together, she and Unemployment Compensation Administrator Jacqueline Canales have significantly reduced the amount HISD pays out each year in unemployment. Payout totals for the first and second quarters of 2013 reached almost a million dollars, but since Gonzalez began working with Canales in January, those figures have dropped by almost a half for 2014.
After obtaining her adjuster license last November, Gonzalez is also now authorized to work with employees who are filing Workers' Compensation claims, and to assist the specialists who prepare the paperwork.
A native Houstonian, Gonzalez is a member of Westbury High School's class of 1993. She lives in Houston with her husband of 11 years, Eduardo, and her son, who attends Bellaire High School. When not working, Gonzalez enjoys watching movies, going camping, and spending time with her family and friends.
"Not many people who have a lot going on in their personal lives still come to work every day with a smile," says Workers' Compensation Specialist LaShondra Vaughn. "But Maria never complains about anything—even when she lost her grandmother and father-in-law within a couple of months of each other. She makes sure everyone is recognized on their birthdays and goes out of her way to help people in any department that calls on her."
"Maria does a wonderful job and this is very well-deserved," says Workers' Compensation Senior Manager Sharada Phillips. "She sets the bar really high, and she is an integral part of all of the hard work that comes out of this department."
"Maria is one of those really cheerful, hardworking employees who always has something positive to say," adds Benefits General Manager Brad Bailey. "What really sets her apart is how much she enjoys being part of a team and actively working to make that team better. Because that's not something you can teach—it's just something you are."