Antonio Rodriguez: September 2014 Employee of the Month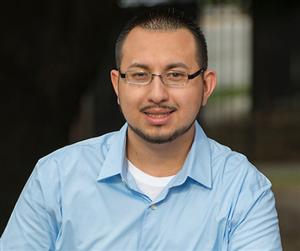 Antonio Rodriguez, Employee of the Month for September, is a clerk at Fonville Middle School. He joined Team HISD in 2010 as a 21st century coordinator at that same campus, then worked briefly as an Information Technology assistant. He accepted his current position there last year.
As a clerk for the seventh-grade team, Rodriguez is responsible for maintaining the discipline data for all students in that age group. He also serves as the assistant soccer coach and supports the office staff by answering the phone, filing paperwork, and interacting with parents. "This is actually my neighborhood, where I grew up," he noted. "So this is something that I wanted to be a part of."
Rodriguez also hopes to be a part of another district institution some day: the HISD Police Department. He will begin taking classes in law enforcement next spring at Houston Community College and has plans to join the police academy.
A native Houstonian, Rodriguez is a proud member of Sam Houston Math, Science & Technology Center's Class of 2010. He lives in Spring with his fiancée, Iliana Cortez, and their two daughters. When not working, Rodriguez enjoys traveling; watching, playing, and coaching soccer; and spending time with his family and friends.
"Mr. Rodriguez is a former Fonville student himself, so he is a wonderful role model for our students," explains Principal Iris Reyes. "He guides them to work hard and try their best to be successful using his own experiences as examples."
"Mr. Rodriguez's official title is 'clerk,' but he has become a mentor to some of our young men," adds teacher Tammie Jones. "He not only helps with discipline, but he tries to help them figure out how to correct their own behavior. They know that he is one of their advocates."
"Mr. Rodriguez is an outstanding professional and very charismatic," said teacher Vania Willms. "He always addresses issues in a timely manner, works collaboratively, and is assertive when it comes to discipline. We know we can always count on him if we need help."
HISD Employee of the month for September 2014 from Houston ISD on Vimeo.