James Jacobs: December 2014 Employee of the Month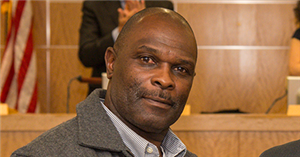 James Jacobs, Employee of the Month for December, is a senior mechanic with Transportation Services. He joined Team HISD in 1986 after serving for six years as a boatswain's mate in the U.S. Navy.
"I was a helper on a trash truck [in what is now Construction & Facility Services]," said Jacobs, of his very first job with the district. "That was back when HISD had its own garbage service. Now it contracts that out." Jacobs also served as a small engine repairman in the Grounds Division before landing his current position, which he has held since 1998.
Although Jacobs' official title is "senior mechanic," his main duties involve receiving new district vehicles, processing title work, obtaining license plates, handling recalls, coordinating warranty work, and cutting and programming keys for all light-fleet vehicles in the Truck Service Center. He also serves as a temporary team lead when others are out sick or on vacation.
Jacobs is a native of Haynesville, Louisiana, who came to Texas after his military service was complete. He lives in Missouri City with his wife of 18 years, Angela, and their 16-year-old son, Cameron. When not working, he enjoys watching movies, playing basketball and football, and participating in church activities.
"Jake is one greatest people you will ever meet," says Truck Service Center Foreman Josh Calvin. "I've known him since I started with HISD, and he has a wealth of district knowledge. Whenever I get stuck, I ask him. He doesn't shy away from responsibilities, and when he sees something that needs taken care of, he gets it done. It's a pleasure having him as an employee and as a friend."
"Jake has every HISD vehicle—whether it's a fork lift, air compressor, or member of the light fleet—memorized by number, year, and make," adds Transportation Clerk Sherry Taijeron. "He knows where they are and who they are loaned out to without even looking at a piece of paper."
"Jacob's contribution to HISD has been outstanding, and he is a role model for other employees," says Fleet Operation Senior Manager Andres Montes. "Jacob sets an example by always being available, regardless of the project. He also mentors new employees and bridges the communications gap between employees and management. I am fortunate to work alongside him."