Helen Tran: January 2014 Employee of the Month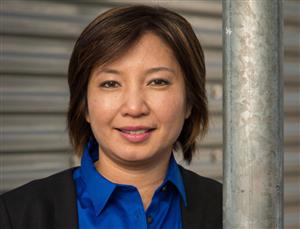 Helen Tran, employee of the month for January, is the business manager at Westside High School. She has been with the district since 2001, when she first joined the Westside team as a technology intern. Since then, she has been promoted twice – once to computer network specialist in 2003 and again in 2013 to her current position.
As the business manager at Westside, Tran is responsible for maintaining the campus budget, monitoring transportation expenditures, reconciling all financial transactions, and purchasing instructional materials, equipment, and office supplies. In a nod to her previous role, she also oversees major technology projects, which the new campus technologist implements.
Tran lives in Sugar Land with her husband of 11 years, Joe, and their two children, who attend Bush Elementary School. When not working, she enjoys cooking, photography, and volunteering.
Helen has been at Westside since it opened in 2000, and her story is one of tremendous loyalty and commitment," said Principal Peggi Stewart. "She is someone who has all the answers, be it regarding data analysis, Gradespeed, or software. Last year, Helen developed an online lesson-plan upload tool for teachers, and since becoming the business manager, she has worked tirelessly to identify subtle ways to preserve important funds while reducing other non-urgent expenses. And she did this without compromising any of our programs or the quality of services provided to our community. I have never met anyone so hardworking and selfless."
"Helen is simply amazing," adds former Westside (and current Bellaire) Principal Mike McDonough. "Part of what makes her so remarkable is her ability to anticipate a means by which she can support the faculty and staff. She has a keen eye for how systems work and is skilled at optimizing those efforts. Her talents have become so well-known that everyone at Westside comes to her for any type of need."
"Helen is special because she has extraordinary problem-solving capabilities, performs with excellence even under high-pressure situations, and is always 100% responsive to the needs of staff and students," said teacher Pam Vaughn. "I have had the great pleasure of working with Helen since the building opened, and her contribution to the mission of the school has been multi-faceted and unrelenting. We are so fortunate to have her on our team."