Ana M. Beltran: February 2014 Employee of the Month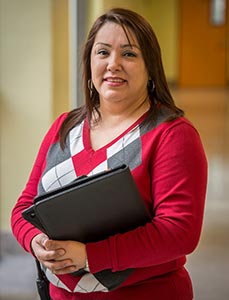 Ana M. Beltran, Employee of the Month for February, is the finance clerk at Jackson Middle School, a position she has held since 2007. She has been with the district since 1995, when she joined Team HISD as a discipline clerk at that same campus.
While her official title is "finance clerk," Beltran is actually the only person aside from the principal who deals with requisitions, travel arrangements, budgeting, and inventory at her campus. She is responsible for maintaining the school's budget, monitoring transportation expenditures, reconciling all financial transactions, and purchasing instructional materials, equipment, and office supplies. She also comes in early to greet students at the gate — something parents love — and helps out with special events, serves as an extra hall monitor, and prepares student and teacher incentives (such as Teacher of the Week goodie bags) to keep morale high.
Beltran lives in Houston with her husband of 15 years, Mauricio, and their three children, who attend HISD schools. When not working, she enjoys volunteering, camping on the Frio River, and spending time with friends and family.
"Ana knows her job inside and out, and she makes sure that I know and see everything related to the budget, too," explains Principal Kelly Vaughn-Pichon. "To have somebody like that whom you can trust…it's big. She goes over the budget with a fine-tooth comb — and Imean there is not a penny off."
"Ms. Beltran is very hard worker," adds Dean of Instruction Berzayda Ochoa. "What makes her exceptional is the tasks she takes upon herself that are really not a part of her job description. Officially, she's the finance clerk, but she also assists me in making sure transitions between classes go well. She'll even make purchases for the school on the weekends, even though it's on her own time."
"Ms. Beltran is very dedicated," says secretary Rosa Rosales. "She is passionate about her job and often takes what happens personally. She believes that we all need to work together to achieve our goal, with the safety and security of our students and staff in mind.If you saw her out in the building, you wouldn't think that she is 'just' our financial clerk."