Nadine D'Souza: May 2016 Employee of the Month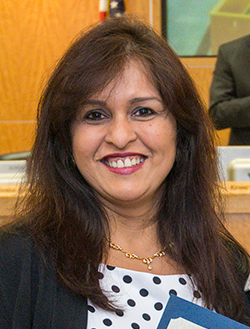 Nadine D'Souza, Employee of the Month for May, is an Administrative Assistant at Whidby Elementary School. She began her career at HISD in 1999 as a parent volunteer when her then 3-year-old son was in Montessori. By 2003, she was employed by the district.
"My first assignment was as a TA (Teacher's Assistant) in a special education class." D'Souza said. "It was a class where, you know, the kids … they needed you."
Her dedication to the students and staff at Whidby grew stronger as she tackled any job on the campus, from office clerk, to assisting the school nurse, to her current position as administrative assistant. Guiding this drive was D'Souza's belief that "we are all here to work for the students. No job is too small."
Though her son is now in college, D'Souza's work ethic has not faltered since her days as a parent volunteer. Whidby principal Rashonda Griffin notes, "she understands the community, she understands our students. It is difficult to explain everything she does around here."
As for news that she was being recognized as the district's Employee of the Month for May, D'souza felt honored and shared the news with her mother just in time for Mother's Day.
"It's nice to be recognized. My mom's back in India, so I called her. She was pleased. She sent me a beautiful email telling me how proud she was of me."
"Nadine D'Souza is Team HISD exemplified. She takes her work to heart. This recognition is well-deserved," Griffin said. "Good choice HISD. Good choice."