Vincent Jones: June 2013 Employee of the Month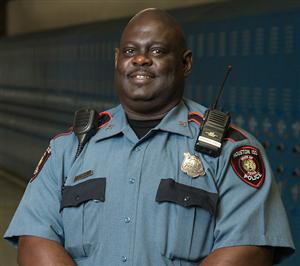 Vincent Jones, Employee of the Month for June, is a police officer at Holland Middle School, a position he has held since he first joined Team HISD in 2002. Before that, Jones served as a deputy constable in Harris County for six years. He obtained his law enforcement degree from the University of Houston-Downtown, and currently holds an advanced police officer's certification.
As a campus police officer, Jones' main duties consist of patrolling the school grounds, preparing incident reports, and working with other campus personnel to keep all students, teachers, staff, and visitors safe. He is also a member of the Shared Decision-Making Committee, the Safety and Security Committee, and the Police Officers Association, and he has run a weight-lifting program on campus for at-risk students for the past two years.
A native Houstonian, Jones is a proud member of Yates High School's Class of 1983. He lives in Fresno with his wife, Sytiria, and daughter, Chevaria. When not working, he enjoys working out, cooking, and spending time with his family and friends.
"Safety is our number-one priority," says Holland Middle School Principal Tarrynce Robinson, "and Officer Jones is a part of that plan. He exemplifies the characteristics of a team player, and he reminds the students daily that the decisions they make in the next four years will directly affect the next 40 years of their lives. His weight-lifting program contributed to an undefeated football season this past year, as many of our boys dominated on the field. But more importantly, his training program emphasized mental strengthening and decision-making skills."
"Supervising Officer Jones has been a joy," adds Sergeant Sabrina Naulings. "'Safety First' is what he lives by, and he works very well with the administration and staff and is highly respected by students and parents. He is an asset to HISD and to the police department."
"I have known Vince for more than 40 years," said METRO Police Lieutenant Kevin Williams. "He has always been the same person—someone you can depend on. He is one of the most dedicated officers that I have seen. He really cares about the kids and is always available to help with anything he can."