Ronda Hicks: July 2013 Employee of the Month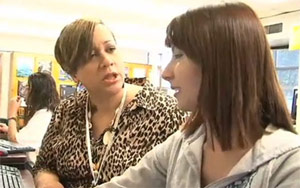 Ronda Hicks, Employee of the Month for July, is a clerk at the Sam Houston Math, Science, and Technology Center, a position she has held since she first joined Team HISD in 2009. Before that, she ran her own cosmetology business for more than 25 years, a venture she still maintains after hours and on weekends.

As a clerk, Hicks' official duties include answering the phone and maintaining the school's document filing systems, but she is also known for the sincere interest she takes in everyone around her. Last December, Hicks organized a gift drive for a student whose mother had been paralyzed and whose brother, father, and grandfather had been killed in an auto accident. Her quick thinking also helped the school's ninth-grade counselor get help for a suicidal student before it was too late.
A native Houstonian, Hicks is a proud member of Washington High School's Class of 1986. She also has three grown daughters who are products of HISD schools. Hicks lives in Houston, and when not working, she enjoys styling hair, watching movies, working on the computer, and serving in her church's ministry.
"Ms. Hicks is incredible," says Sam Houston Math, Science, and Technology Center Principal Jane Crump. "She treats everyone with so much respect. The kids really love her. She is one of those people who just makes you feel good when you see her coming."
"Ms. Hicks demonstrates on a daily basis how building positive relationships pays off immensely in a school setting," adds ninth-grade school counselor Joi Ross-Moore. "Her willingness to invest in those around her smoothes the path for the rest of us, particularly the students."
"Ms. Hicks really makes a positive impact on campus morale," explains Dean of Students Marta Alvarez-Blanco. "Her positive demeanor and energy are an example for everyone. She genuinely worries about students' personal endeavors and she goes the extra mile to ensure that kids are successful at school."