Welcome to the website of Waltrip High School.

Thank you for your interest in our school! Please feel free to explore the different areas from the drop down menus located at the top of every page: Home, About Us, Academics, Get Involved, and Resources.
---
Hello Ram Nation!
It is great to be back in the Waltrip feeder pattern! After 23 years of experience in HISD, I am honored to be the leader of such an amazing community with great families, outstanding teachers, staff, and most importantly, amazing students.
My vision for Waltrip High School is to make it the school of choice for our community. Waltrip offers a plethora of quality academic and extracurricular programming for every student. Our motto this year is "Quality Instruction: Every day, Every class, Every student." We are committed to preparing students for graduation and readiness for life after high school.
I am devoted to maintaining a safe and collaborative culture of excellence and high performance. I look forward to speaking with you and working alongside you in making Waltrip the school of choice for this community. Talk with you soon!
¡Hola Nación Ram!
¡Es estupendo estar de regreso en la alineación de Waltrip! Después de 23 años de experiencia en en el distrito escolar independiente de Houston, me siento honrada de ser el líder de una comunidad tan increíble con excelentes familias, maestros, y personal pero lo más importante, estudiantes increíbles.
Mi visión para la escuela preparatoria Waltrip es convertirla en la escuela de eleccion pora nuestra comunidad. Waltrip ofrece una gran cantidad de programas académicos y extracurriculares de calidad para cada estudiante. Nuestro lema de este año es "Instrucción de calidad: todos los días, todas las clases y para todos nuestros estudiantes". Estamos comprometidos a preparar a los estudiantes para la graduación y la preparación para la vida después de la escuela preparatoria.
Me dedico a mantener una cultura segura y colaborativa de excelencia y alto rendimiento. Espero hablar con usted y trabajar junto a usted para hacer de Waltrip la escuela de su eleccion. ¡Espero verlos muy pronto!
Rhonda Honore'



WHS Community Messages 2023-24
**Please remember**
3:30

early student pickup deadline!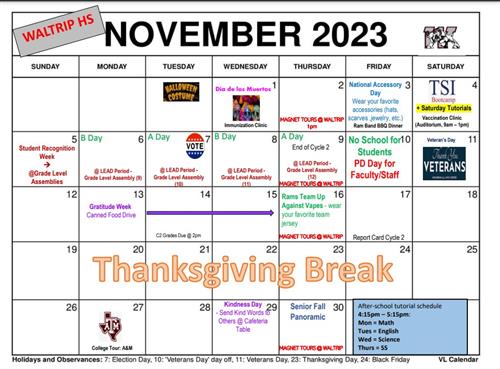 2023-24 School Year Presentations for 10th & 11th grade students
HOWTO: Join Live Teams Meeting