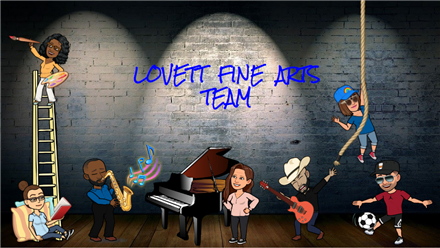 WELCOME TO FINE ARTS!
The fine arts department at Lovett is made up of a group of professional teachers who bring to the table a wealth of hands-on experience, diverse backgrounds, and research-based educational practices. This year we congratulate Mrs. Ginny Croft on her retirement after 40 amazing years with Lovett, and we welcome our new band director, Mr. Ali Jackson.

With more than 125 years of combined experience in education, you can be sure that your child will participate in mindful, rigorous learning in whichever fine arts classroom they choose. The team holds nine degrees and more than ten diverse educational certifications, ensuring that your child will be supported both artistically and in the core curriculum. Whether its coaching, tutoring, teaching privately, or performing, our team is very active in the Meyerland and surrounding communities.

The different programs participate in many activities such as All-City (band, orchestra, choir), the Art Car parade, Name that Book, Odyssey of the Mind, various track meets, musical festivals and more. Our team members chair various HISD committees, summer camps, and festivals. The team is an integral part of campus technical support and most use technology both in the classroom and communicating with parents.

The Lovett Fine Arts team offers Art, Music, and PE for weekly core enrichment instruction. Students will have Art and Library once a week and PE and Music twice a week. At the beginning of the school year, students in 1st-5th grade choose from Band, Classroom Music, and Orchestra.

Please visit the teachers' individual pages for more information about their specific classes and event calendars. Welcome to Lovett Fine Arts!