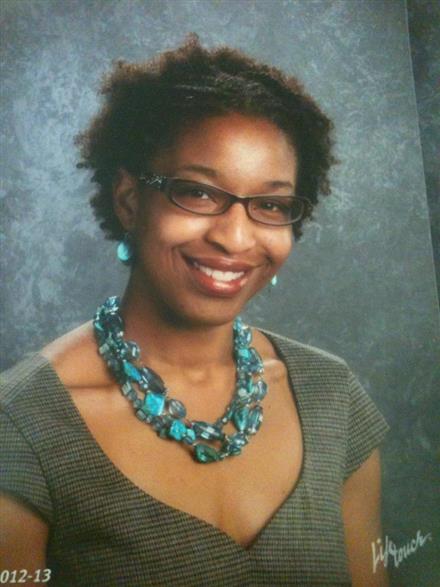 Phone: (713) 636-4300 EXT. 477251
Email:
Degrees and Certifications:
B.S. Secondary Education ELA 7-12th
Ms.

Melaine Andrews

Melaine Andrews is an educator who has a passion for helping at risk learners achieve their literacy goals. She obtained a bachelor of science in secondary education from Alabama State University. Her advice to anyone who desires an education, "Do not rent knowledge for the test, Own knowledge for a lifetime."

In her spare time she volunteers at the Namoi's House for women who are return to society prison, an active member of her local church assembly, and an avid international traveler.
Important Contact Information
I would like to welcome all students and parents to our classroom. It is a privilege to have you in our class for the 2017-2018 school-year. I hope we can work together for your academic success in English class.
Course Description: This course focuses on a study of literary genres; the students develop initial understanding of both the structure and the meaning of a literary work. The students explore the effect of the literary form in regards to interpretation. The students will read across the curriculum to develop academic and personal interests in different subjects. The student will also demonstrate competency in a variety of writing genres: narrative, expository, persuasive, and technical. The students will engage in research, timed writings, and the writing process. Instruction in language conventions will occur within the context of reading, writing, and speaking, rather than in isolation. The students demonstrate an understanding of listening, speaking, and viewing skills for a variety of purposes.

Effort will be concentrated in three major areas:

Reading Process/Strategies: Mastering the ability to be engaged, fluent, and competent readers of the variety of texts they will have to understand in their personal, academic, and professional lives.
Writing Process/Organization: Mastering the prewriting, drafting, revising, and editing process within the required time constraints; developing the ability to judge one's own work effectively.
Development of Ideas: Expanding ideas into well-developed, unified and coherent essays with textual evidence.
Use of Language/Conventions: Developing language appreciation and expression through elements of punctuation, grammar, sentence structure, and diction.

Course Prerequisites: English 1
Required Materials:

School Issued Laptop (Bring Daily)
Pen or Pencil
Highlighters
Composition Notebook
Classroom Expectations

Students' HUB account, GradeSpeed, email, and class website should be checked daily.

Please sign-up for the Remind App:

The Remind App will be utilize to send homework reminders, parent communication, and any other vital information.

A NOTE ABOUT ABSENCES: You and you alone are responsible for finding out what you missed during an absence and completing the work. "You did not tell me" is never an excuse for failing to complete work missed during an absence. All work is routinely posted on the class website and can usually be completed even if you are in another city or quietly recuperating from the flu. If you are too sick or busy to work, you always have a number of days equal to the number of days absent during which to complete missed work. However, it is NOT the responsibility of the teacher to remind you or nag you. Always check with a classmate to retrieve missed notes/vocabulary/grammar lessons. If worksheets or other handouts are necessary and are not on the website/OneDrive/HUB, take the initiative to email your teacher.

Students are expected to abide by the Student Code of Conduct for North Forest High School, dress code and behavior policies (see Student Handbook for specific dress code, late work, tardy and other policies).

The following are not allowed in class at any time:

Grooming supplies (combs, brushes, make-up, mirrors, perfume, cologne, etc.)
Cell phones
Recreational electronic equipment
Late work Policy

Classwork will not be accepted late.

Homework is due on the date specified by the teacher. The due date is the students' first chance to turn in the work. It will be accepted the following day, which is the students' second chance. If it is not turned in the next day, it is a zero.

All major writing assignments and projects are due on the date specified by the teacher. Late work will be penalized by a 10-point penalty per day. Work that is more than 2 days late will not be accepted.

All tests and quizzes must be retaken within a week of the original test date, with an excused absence.