Do you want to see our School?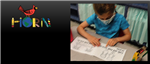 Due to the unforeseen boil water notice, our school is closed today, and we will not be able to have our new student tour this evening on 11/28/22.
Once we have another date set, we will communicate with you personally via this e-mail provided and on social media. We are looking forward to meeting you soon!