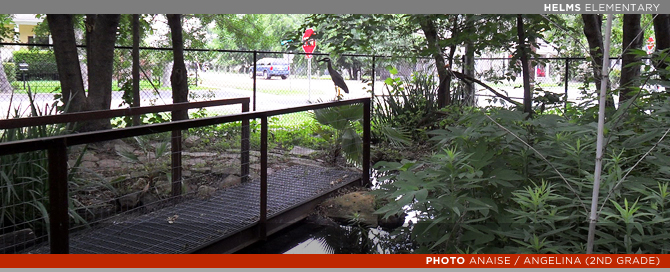 "Let Nature be your teacher." – William Wordsworth
Nature in the Heart of the City

Helms Elementary School is proud to be home to one of the only combination wetland and gardens in the Houston Independent School District. This unique learning resource includes two main vegetable gardens - which help feed many of the school's indoor pets such as rabbits, guinea pigs, mice, gerbils, parakeets, finches, hamsters and fish - and a wetland habitat consisting of plants, flowers and a pond with two water fountains, which support a variety of species including butterflies, dragonflies, hummingbirds, turtles, mosquito fish, a kingfisher and a night heron.

A Learning Resource

The outdoor classroom provides a one-of-a kind, hands-on learning environment where science comes to life and nature inspires art. Students from all grade levels have the opportunity to experience nature in the heart of this urban neighborhood as the wetland and gardens are incorporated into lesson plans and curricula. In addition, over the years the Helms outdoor classroom has served as an educational resource and model for surrounding communities, grade schools, colleges and universities.

History

The project, which was started in 1994, has developed over the years through the generous support of public and private donors and the hard work of students, teachers, parents and community members – dedicated volunteers who continue to provide maintenance and improvement services.

How you can help

The Helms community has great aspirations for the wetland and gardens. To realize the full value of this resource we would like to build new garden beds, purchase a shed and tools for maintaining the spaces, build seating for the wetlands outdoor classroom, create observation stations and replace non-native plants with native species found along the Gulf Coast. New natural stone pathways, shadecloth for seating, better irrigation, multi-lingual educational materials and signs for both the gardens and wetlands would also be a huge boost to developing a more open, welcoming, and safe space for children to get up and moving outside.

The maintenance, upkeep, and upgrades for this special classroom are not supported by school district funds.