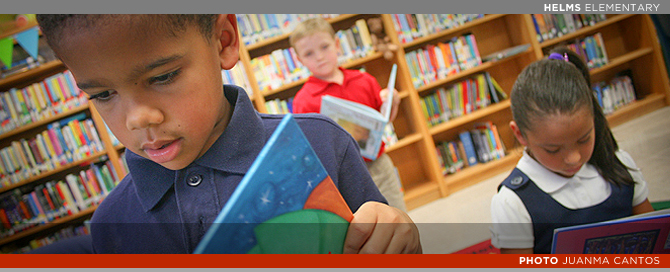 DUAL LANGUAGE MAGNET PROGRAM

What is Dual Language?

In Helms' Pre-Kindergarten through Fifth Grade Dual Language Program, native English and native Spanish speaking students are integrated in the same classroom. Through content area instruction students become bilingual and bi-literate, developing positive cross-cultural attitudes and behaviors. Helms' goal is that all students will perform at or above grade level in both languages by the fifth grade.

The Dual Language Program is both an additive bilingual program for Spanish-speaking students and a foreign language immersion program for English-speaking students. In Two-Way classrooms, a combination of native Spanish speakers and native English speakers are taught together in an effort to develop full bilingualism and bi-literacy for both groups of students.

Elementary Level

All participating students receive instruction in language arts and content subjects primarily in Spanish in the early grades (K-2) with a grade specific amount of English as a Second Language/English Language Development instruction incorporated daily. English instruction is gradually increased through the grade levels (K-2) and by third grade instruction is presented in a 50% Spanish/50% English format. In grade five, instruction is delivered through a 50% Spanish/50% English mix. In grades 4-5 the language of instruction is determined by content area. In fourth grade language arts, reading and mathematics are taught in Spanish and Science, Social Studies, and English literature are taught in English. In fifth grade language arts, reading, mathematics, and science taught in English and Social Studies and Spanish literature are taught in Spanish. ELLs, who meet exit criteria anytime in this program, are reclassified as non-LEP, but remain in the program with parent permission.

Goals & Benefits

All Dual Language students will:

Achieve academically in all content areas

Develop

bilingual

and

biliterate linguistic and literacy proficiencies in English and Spanish

Develop a multicultural perspective

Houston ISD currently has twelve Elementary, two Middle School, two K-8 Academies, and one High School Dual Language Program. Please contact the Multilingual Programs Dept. (713-556-6961) for more information concerning this program option.