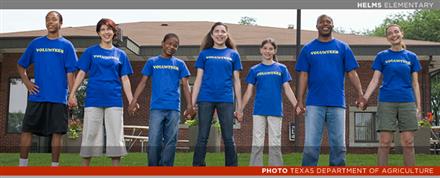 HOW CAN I HELP?

Volunteers in Public Schools (VIPS)

Members of the Helms community are welcome to serve as tutors, mentors, teacher partners, chaperones, cafeteria monitors, helpers in library, and office. HISD values its parents and volunteers. We encourage every Houstonian to become involved in making our schools the best in the nation.

Student safety is our number one concern. We encourage all parents to help us maintain a safe and secure campus for all students by discussing our school's policy and procedures with their family.

If you or someone you know is interested in volunteering at Helms ES, please call us at 713-867-5130.

¿CÓMO AYUDAR?

Voluntarios en las Escuelas Públicas (VIPS)

Los miembros de la comunidad de Helms están invitados a servir como tutores, mentores, ayudantes de maestros, chaperones, monitores, ayudantes en la cafetería, en la biblioteca o en la oficina. HISD valora a sus padres, madres y voluntarios. Animamos a todos los houstonianos a involucrarse en convertir a nuestras escuelas el mejores en la nación.

La seguridad del estudiante es nuestra preocupación número uno. Animamos a todos los padres a ayudar a mantener un campus seguro para todos los estudiantes hablando de las políticas y de los procedimientos de nuestra escuela con su familia.

Si usted o alguien que usted conoce está interesado en ser voluntario en Helms ES, por favor, llámenos al 713-867-5130.