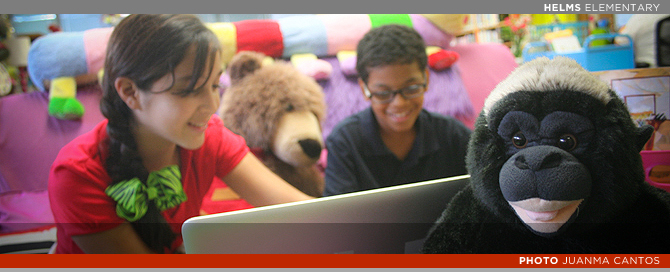 MEDIA AND TECHNOLOGY

Highlights of the program:

All students receive instruction of the State Technology Standards provided by teachers during assigned computer lab times. Fifth grade also receives ancillary technology time.

Grade level desktops are set up with approved online resources. Some resources require passwords. Eg: Study Island, Renzulli... Those resources and links are available at home through the "Students" tab on the website and, also, through this page, at the menu on the left.

Every classroom is equipped with at least 4 computers for online learning and research. Most classrooms have document cameras and LCD projectors.

For more info click on Technology TEKS.

MULTIMEDIA Y TECNOLOGÍA

Puntos destacados del programa:

Todos los estudiantes reciben instrucción de los State Technology Standards establecidos por los profesores durante las horas de laboratorio de informática asignadas. Quinto Grado recibe también el tiempo la tecnología auxiliar.

Las computadoras de escritorio de cada grado son instaladas con los recursos en línea aprobados. Algunos recursos requieren contraseñas. Por ejemplo: Study Island, Renzulli ... Esos recursos y enlaces están disponibles a través de la pestaña "Students" de esta web y, también, a través de esta página, en el menú de la izquierda.

Cada aula está equipada con al menos 4 ordenadores para el aprendizaje en línea y la investigación. La mayoría de los salones tienen cámaras de documentos y proyectores LCD.

Para obtener más información, haga clic en Technology TEKS.