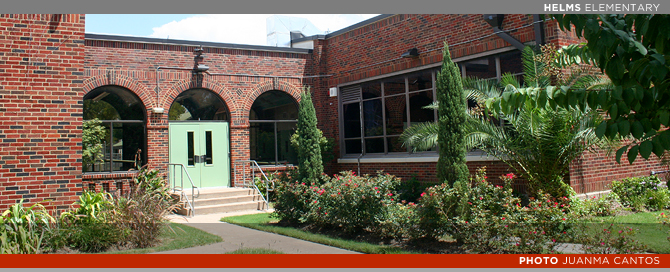 SHARED DECISION-MAKING COMMITTEE

SDMC Program Description

The Houston Independent School District (HISD) Board of Education established and approved the campus-level planning and decision-making process in 1992. This process includes the creation and maintenance of a Shared Decision-Making Committee (SDMC) at each school to review the district's educational goals, objectives, and major district wide classroom instructional programs.

Each committee is designed to involve professional and non-professional staff, parents, community members, and business representatives in establishing academic and other performance objectives of the school for each academic excellence indicator adopted in the Texas Education Code (TEC §11.253, TEC §39.051).

The SDMC was authorized to fulfill the following responsibilities:

Implement all pertinent campus-level planning processes;

Develop recommendations for the school budget;

Submit recommendations for the school curriculum;

Recommend changes in the school's staffing patterns;

Develop and approve the campus staff development plans;

Develop, review, and revise the School Improvement Plan (SIP) for the purpose of improving student performance for all student populations (after principal approval of the SIP, the SDMC presents the plan to staff for approval);

Review and make recommendations regarding the school's organizational structure, and

Establish procedures to periodically obtain broad-based community, parent, and staff input.

The SDMC is required to meet at least once a year to discuss the performance of the school and the school's objectives. A record of all decisions and significant discussion items must be maintained by the committee. This information should be disseminated to appropriate school and district personnel as well as be available upon request for public review.

Helms Shared Decision Making Committee

Helms Shared Decision Making Committee (SDMC) is comprised of members of the faculty and community. It provides suggestions regarding problems and concerns that directly affect reaching the goals and objectives in our School Improvement Plan (SIP). Your input is always welcome. You may find copies of the minutes of each meeting on the front office and at the school website. You do not have to be a member of the SDMC to attend any monthly meeting. All stakeholders in our school – parents, teachers, community members, etc. are welcome to attend all meetings. Only official members of the SDMC may vote on issues before the committee. Input from all stakeholders is greatly valued. Issues of schoolwide interest may be submitted to the principal for inclusion on the SDMC agenda up to 48 hours before the meeting date. It is possible that an item may not be placed on the agenda until the next meeting due to time considerations. The SDMC meets on the 3rd Monday as scheduled at 2:50.The SDMC advises the principal who makes the final decisions. The SDMC meeting dates can be found on the school website and will be sent home on the monthly calendar.

SDMC Meeting Minutes

You can read or download the minutes from the meetings clicking on the links on the left menu at this page. The SDMC will meet at 2:50 on the 3rd Monday as scheduled.

PROGRAMA SDMC

Descripción del Programa SDMC

La Junta de Educación (Board of Education) del HISD estableció y aprobó la planificación a nivel de campus y el proceso de toma de decisiones en el año 1992. Este proceso incluye la creación y mantenimiento de un Shared Decision-Making Committee (Comité de Toma de Decisiones Compartida, SDMC) en cada escuela para revisar las metas educativas del distrito, sus objetivos y otros programas de instrucción en el aula.

Cada comité está diseñado para involucrar al personal profesional y no profesional, los padres, miembros de la comunidad, y representantes de las empresas en el establecimiento de objetivos de rendimiento de la escuela para cada indicador de excelencia académica y otros de la escuela para cada indicador de excelencia académica adoptado en el Texas Education Code (Código de Educación de Texas) (TEC §11.253, TEC §39.051 ).

El SDMC está autorizado para cumplir con las siguientes responsabilidades:

Implementar todos los procesos de planificación a nivel de campus pertinentes;

Desarrollar recomendaciones para el presupuesto de la escuela;

Presentar recomendaciones para el plan de estudios de la escuela;

Recomendar cambios en la dotación de personal de la escuela;

Elaborar y aprobar los planes de desarrollo del personal de la escuela;

Desarrollar, revisar y replantear el Plan de Mejoramiento Escolar (SIP) con el propósito de mejorar el rendimiento estudiantil de todas las poblaciones estudiantiles (después de la aprobación del director de la SIP, el SDMC presenta el plan al personal para su aprobación);

Revisar y hacer recomendaciones con respecto a la estructura organizativa de la escuela, y

Establecer procedimientos para obtener periódicamente comunicación con la comunidad, en base amplia, padres y personal.

El SDMC debe reunirse al menos una vez al año para analizar el desempeño de la escuela y los objetivos de la escuela. Un registro de todas las decisiones y elementos de discusión importantes debe ser mantenido por el comité. Esta información debe ser difundida a la escuela y al apropiado personal del distrito, así como estar disponibles a petición para revisión pública.

El Comité de Decisiones Compartidas (SDMC) de Helms

El Comité de Decisiones Compartidas de Helms (SDMC) está formado por miembros del profesorado y de la comunidad. Da sugerencias en relación a los problemas que directamente afectan a como alcanzar las metas y objetivos de nuestro Plan de Mejora de la Escuela (SIP). Sus contribuciones son bienvenidas. Puede encontrar copias de los minutos de cada reunión en la oficina principal y en la página de internet de la escuela. No tiene que ser un miembro del SDMC para asistir a las reuniones mensuales. Todas las partes interesadas en nuestra escuela – padres, maestros(as), miembros de la comunidad, etc. son bienvenidos a asistir a las reuniones. Sólo los miembros oficiales del SDMC puede votar sobre las cuestiones a tratar ante el comité. Cuestiones de interés para toda la escuela puede ser presentadas al director para que se incluyan en la agenda del SDMC hasta 48 horas antes de la fecha de la reunión. Es posible que una cuestión no aparezca hasta la agenda dl próxima reunión por cuestiones de tiempo. El SDMC se reúne el tercer lunes segun el calendario establesido a las 2:50. El SDMC asesora al director quién toma la decisión final. Las fechas de las reuniones del SDMC se pueden ver en la página de internet y se enviaran a casa en el calendario mensual.

Minutas de las juntas del SDMC

Puede leer o descargar las minutas de las reuniones del SDMC pulsando sobre los enlaces de la izquierda en esta misma página. La junta de SDMC tiene lugar el tercer lunes segun el calendario establesido a las 2:50.