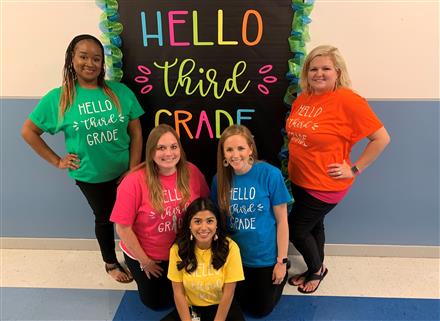 Third Grade Team
Kami Jenkins

Ashley Harris

Irma Santillan

Blake Spann

Ilene Thomas

Conference time:

We are happy to meet with parents during our ancillary time 9:30-10:20am, please email your child's teacher to schedule a day to meet.

Please allow 24 hours for a response to your email. For urgent messages, please call the office 713-295-5258.

Communication:

Please keep and eye out for our weekly newsletter.
Welcome to Third Grade!
Welcome to 3rd grade! Our mission is to provide a quality education for each learner by:

focusing on building strong, confident readers and writers by moving toward literary independence

developing problem solving skills and number sense to build a strong mathematical foundation

promoting creative and collaborative problem solving through science and social studies projects and hands on experiences
About Our Team
About our team

We

provide a quality education for the whole child.

Work Experience

Over 35 years of experience teaching (EC-6)

GT certification

ESL certification

Guided reading

Guided math

Project based learning

Small group instruction

Inclusion classes

Key Skills

Attention to detail

Compassion

Develop grade level appropriate curriculum

Build relationships

Collaborate with others

Computer skills

Bilingual

Education

Lamar University, 2009

Texas A & M, 2009

Texas State University, 2009

University of Houston, 2004, 2005, 2009, 2010, 2014

University of Houston-Clear Lake, 2016