VIDEO HI-LIGHTS ENGINEERING PROGRAM AT BOOKER T. WASHINGTON HS
Booker T. Washington High School for Engineering Professions from Houston ISD on Vimeo.
---
DEBAKEY STUDENT INTERNS AT UT M.D. ANDERSON CANCER CENTER OVER SUMMER
Read about Julian's summer internship project here.
---
HEIGHTS HIGH SCHOOL
Heights High School wins JA Company Program, titled JA Ignite the Spark.
This event was officially powered by Microsoft who also hosted the Innovation Challenge. Please join me in heartily congratulating Heights High School and their company Bulldog Apparel for winning 1st Place and initial $100 seed money from the Glenda and David Regenbaum Center for Entrepreneurship at HCC Northwest They also won a brand new Surface Pro for their company Bulldog Apparel and will now have a chance to pitch their idea to the Microsoft Product Team and also be featured in a Microsoft Workshop. So proud of them! Attaching two screenshots of their idea/pitch along with the final Challenge posed by Microsoft after they unveiled several sample ideas/suggestions. Our former CEO Bora Colkesen and former CFO Andre Martinez pitched effortlessly in under 90 seconds to win the Challenge.
Heights will next pitch at The Ion, Rice University (Jones Graduate School of Business), University of Houston/Bauer, and then make submissions to the University of Delaware's global competition. This will be an exciting year full of learning for them.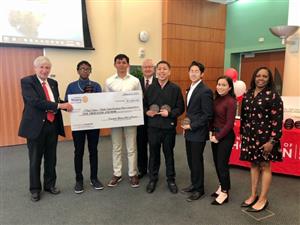 Students who participated and won:
Andre Faustino Martinez
Bora Colkesen
Joe Maddux
Emma Rodriquez
Alan Hernandez-Saavedra
Kevin Valerio
---
NATIONAL TECHNICAL HONOR SOCIETY RECEIVES NEW MEMBERS
Wisdom High School students were inducted into the National Technical Honor Society (NTHS). Computer Science Teacher and Chapter Advisor, Barani Gopannan, led the ceremony where students were recognized for their achievement in career and technical education
---
NEW ADOBE CERTIFIED ASSOCIATES
17 Bellaire Cardinals earned their Adobe Certified Associates certification. Congratulations to these students!
---
NORTHSIDE HS CULINARY SHOWCASE
Students from Northside High School's Culinary Arts program hosted its Senior Showcase. The 4-course menu included a variety of dishes including cauliflower soup, kiwi lobster, Korean braised short ribs, and baked apple. More than 50 guests were invited to the inaugural event.
---
STERLING BPA GIVES BACK
Sterling High School BPA students and their club teacher, Ms. Monica Arroyo, volunteered at the St. Vincent de Paul food fair. Overall, 301 families were provided with goods and produce.
---
ENERGY INSTITUTE STUDENTS COMPETE IN SHOWCASE
Energy Institute High School students compete in the Senior Engineering Design and Development Spring Showcase. Students have prepared for this event throughout the year under the direction of their Engineering teacher, Ms. Rose Chastain. More than 50 senior teams presented projects covering safety, medical/health, daily tasks, environment, transportation, convenience, wildlife/animals, comfort, sanitation, and technology. Local community and business leaders served as judges where they rated student projects and provided constructive feedback.
---
RENOWNED ALUM RETURNS TO STERLING HS
Sterling High School alum, Dr. Carlos Fraga, returns to his alma mater as a guest speaker in Mr. Weaver's aviation class. Students had the opportunity to ask about work ethic and job opportunities. He discussed the importance of academics and the ability to communicate and collaborate with peers in a multigroup setting. Students learned about his role as an explosive forensic scientist where he focuses on developing technologies to counter threats from weapons of mass destruction.
---
WISDOM HS STUDENTS ADVANCE POTENTIAL CAREERS BY EARNING CERTIFICATIONS
Students earn security officer or jailer certifications through training offered by the Texas A&M Engineering Extension Service (TEEX). The courses are also recognized by the Texas Commission on Law Enforcement (TCOLE). Read more about the program the these students' success here.
---
WALTRIP HS STUDENTS EARN SOLIDWORKS CERTIFICATIONS
14 students from Waltrip High School have earned the SolidWorks Mechanical Design Associate certification. This is a remarkable achievement that reflects years of preparation in the school's STEM pathway. View a slideshow of the students who earned this honor HERE.
---
NORTHSIDE STUDENT WINS CULINARY COMPETITION
Senior Mylesha McCardell earned the Gold Medal award at this weekend's NAACP ACT-SO culinary competition. Mylesha had to prepare 6 dishes for judging in 2 hours as well as give a verbal presentation on her dishes and herself. There are 3 medals that can be awarded to a competitor: Bronze 85 to 89; Silver 90 to 94 and Gold 95 to 100. Only Gold Medal winners move onto the National Competition this summer in Detroit, Michigan, and Ms. McCardell will be the first HISD Culinary Arts representative to attend Nationals to compete against other students from 8 other cities in the U.S. She has an opportunity to win a four-year full scholarship to the Culinary Institute of America in Hyde Park, New York.
---
CTE AWARDS BANQUET AT WISDOM HS
On April 12th, 2019 Wisdom High School hosted an inaugural CTE Awards Banquet. The awards ceremony showcased students who earned a certification in NCCER, First Aid/CPR, Security Services and SkillsUSA.
---
WISDOM STUDENTS LEARN FINANCIAL LITERACY
The Houston Black Real Estate Association (HBREA) provided lessons in financial literacy to the students at Wisdom High School. Students learned the impact of savings and financial security. Click on the following link for the full article: https://www.houstonchronicle.com/business/article/Black-real-estate-group-focuses-on-community-13760830.php
---
WISDOM HS CLEANS UP AT SKILLSUSA COMPETITION
Students from Wisdom High School competed in the SkillsUSA Texas State Conference held on April 4-7, 2019. We are so proud of our teachers who guide our students daily and our students who executed their knowledge and skills.
1st Place – Employment Portfolio's: Abdul Feraidon, Alejandra Mananares, Brooke Hoskin, Daysi Hernandez, Donovan Smith, Farida Ismail, Helena Moshi, Jesus Benitez, Jordy Benitez, Lesly Zelaya, Melani Zuniga, Mwamba Mlondani, Pablo Flores, Syed Faridi, Tuqa Al Qasi, Vicky Popadopolous, Virginia Iradukunda
3rd Place – Welding Project: Tony Webb, Gexell Soria and Austin Alexander Technical Tests: Bronze in Criminal Justice: Tuqa Al Qasi; Bronze in Customer Service: Daysi Hernandez; Bronze in Basic Health Care: Pablo Flores; Bronze in Customer Service: Helena Moshi; Bronze in Customer Service: Donovan Smith; Bronze in Customer Service: Vicky Popadopolous; Silver in Customer Service: Brooke Hoskin
---
LAMAR ARTS A/V STUDENTS USE TALENTS TO SHOWCASE CTE
Students, Anna Faubus and Margaret Hudson, took the award for the First Take video competition where they spotlight the various career pathways at Lamar High School. Click on the link to view their video. https://youtu.be/0sTh9JzVpkU
---
HOUSTON MSTC AUTOMOTIVE PARTNERSHIP
Automotive Teachers, DonJuan Floyd and Benjamin Martinez, partnered with Southeastern Freight Lines to secure a vehicle for the auto shop. Students will have the opportunity to engage in a hands-on approach to learning diesel mechanics.
---
STEPHEN F. AUSTIN HS EARNS OFFICIAL NCCER TRAINING FACILITY ACCREDITATION
---
MILBY HS PRINTING AND IMAGING PATHWAY SHINES AT SKILLS USA
The Buffaloes received a perfect score and "Best of Show" at the district competition. Both projects advanced to the state competition. At the state competition both projects received state superior awards.
---
WESTSIDE HS HEALTH SCIENCE STUDENTS PARTNER WITH SENIOR LIVING COMMUNITY
Read the full story here.
---
STUDENTS APPEAR ON AIR TO PROMOTE CULINARY COMPETITION
Culinary students from Milby, Northside, and Westside High Schools appear on television programs to promote Cooking Up Change. Broadcast outlets KHOU, KPRC, Univision and KIAH interviewed different teams about their preparation for the competition to be held Saturday, April 21 at the Art Institute.
---
ENERGY INSTITUTE HS WINS 1ST PLACE IN VEX ROBOTICS COMPETITION
At the SECME Houston Regional Engineering and Design competition last Saturday, Energy Institute High School won 1st Place in VEX Robotics High School, 2nd Place in VEX Robotics High School and 1st Place in Lego Mindstorms High School. The first place VEX team advances to SECME's VEX Robotics National Championship in June. They will travel on an expenses-paid trip to Embry-Riddle University in Daytona Beach, Florida and will be defending the national championship Energy High School won last year.
---
SAM HOUSTON MSTC STUDENTS COMPETE IN SKILLSUSA NATIONAL CONFERENCE
Two students from Sam Houston Math, Science and Technology Center competed in the Humanoid Robotics contest at the SkillsUSA National Skills and Leadership Conference in Louisville, Kentucky from June 19 to 24 2017. Seniors, Xochitl Garcia and Rodolfo Zaragoza represented the State of Texas in the Humanoid Robotics Contest after becoming champions at the state SkillsUSA Texas Skills and Leadership Conference in Corpus Christi. Their faculty advisors are Dehua Lea and Bruce Darkis.
The NAO HRI Challenge is an activity organized in respect to the National SkillsUSA Competition events, with the support of SoftBank Robotics. The goal is to raise awareness, motivate and educate students in the use of humanoid robotics through multi-technological and innovative projects. Through programming, students create scenarios optimizing NAO's capabilities and taking into account its limitations, thus learning about applied user experience and interaction concepts.
---
MILBY HIGH SCHOOL COMPUTER MAINTENANCE
Every year students in Ms. Hankin's Principles of Information Technology class at Milby HS create, record, and edit an instructional hardware repair video. This year's winning video was created by Ezequiel Nieto, Alberto Perez, and Juan Quintero, all promising 9th graders.
The truest evidence of learning is the ability to teach. "We created this video mostly to show people how to properly take out the CPU and put it back into place." Click here to learn more about Milby HS and some of their CTE programs.
---
2017 BUREAU OF SAFETY AND ENVIRONMENTAL ENFORCEMENT ENFORCEMENT AND OCEAN ENERGY SAFETY INSTITUTE TECHNOLOGY CHALLENGE
In March six high schools competed in the 2nd annual High School Offshore Science and Technology Stars Challenge at the University of Houston's TDECU Stadium. Five of the six schools that compete were Houston ISD's Energy Institute High School, Charles H. Milby High School, Westside High School, and Young Women's Preparatory Academy. All of the schools are supported by the Independent Petroleum Associations of America and the Petroleum Equipment & Services Association – IPPA/ PESA Energy Education Center.
All students who participated in this competition are interested in entering the oil and gas industry. Participants cheered each other on while working on a series of challenges designed to help students gain the skills that replicate trainings that would be imperative in the industry workforce. Some of the challenges included circuit design, electrical engineering, piezoelectric technology (developed by NASA), process safety and working in teams. A team from Westside High School placed second in the competition. This competition was sponsored by Bureau of Safety and Environmental Enforcement (BSEE) and the Ocean Energy Safety Institute. The winning teams will be featured at the Offshore Technology Conference in May.
---
Northside High School
University of Houston Admiral Scholars
University of Houston recently hosted the Hilton College Career Fair and Luncheon which honored the 16 Admiral Scholars Culinary students from Northside HS. Students gain the opportunity to meet and mingle with top business leaders and employers from the Houston area.
Former San Antonio Spur David Robinson launched Admiral Hospitality Scholars (AHS) in 2013 as an internship program that provides select high school students with a pathway to a career in the hospitality industry. The program is a joint effort between Robinson's Admiral Capital Group and Hilton Worldwide. the University of Houston's Hilton College of Hotel and Restaurant Management and American Liberty Hospitality provide educational and training support for students in the program. Students participate in a three-day hospitality camp in the summer, matched up with a personal mentor from the hospitality industry, and then participate in a one-year internship at a local Hilton Worldwide-branded hotel managed by American Liberty Hospitality, where they will also receive financial support toward a hospitality degree.
---
Energy Institute High School
Wins Coveted spot at VEX World Robotics Championships
At the S. TX State VEX Robotics Championship, Energy Robotics VEX team 3674R joined 4th seeded lead team 6596 from Clear Lake Robotics and team 624C from Cinco Ranch High School to win a coveted ticket to the 2017 VEX World Robotics Championship.
Energy Robotics VEX team 3674G finished 5th in Robot Skills. They competed with 56 of the top high school robotics teams in Texas.
---
DeBakey High School
HOSA
DeBakey High School lead HISD with 210 students to attend the HOSA Area 2 Spring Leadership Conference and 73 that advanced to HOSA State Leadership Conference that will be held in Corpus, TX. Competitions involved were ( Parliamentary Procedures, Medical Math, Job Seeking Skills, Medical Spelling, Dental Science, Medical Assisting, Sports Medicine, Physical Therapy, Veterinary Science, CPR/1st Aid, Public Health, Extemporaneous Poster, Extemporaneous Writing, Health Career Photography, Researched Persuasive Speaking, Biomedical DeBakey, Heath Career Display, Community Awareness, Creative Problem Solving, Forensic Medicine, Health Education, HOSA Bowl, Medical Innovation Original, Medical Innovation Advanced, Public Service Announcement, Behavioral Health , Epidemiology, Health Care Issue Exam, Human Growth and Development, Medical Law and Ethics, Medical Terminology, Pathophysiology, Pharmacology, and Transcultural Health Care. P.S. Click here to find out more about DeBakey High School.
---
Austin High School
Fuel Up Innovative Challenge
Austin High School Teaching Professions Magnet Students and FCCLA members under the direction Ms. Casiano Magnet Teacher and FCCLA advisor were selected to attend the Fuel Up Innovative Challenge at The Westin-Galleria Saturday, February 4th, 2017. The morning consisted of a leadership workshop to empower students to develop a project to promote nutrition and wellness in our school and community. Our students received the distinct pleasure of working with NFL players and with CEO's of Major Corporations such as Jamba Juice, Midwest Dairy Association, Taco Bell and KFC during Super Bowl LI weekend. They learned valuable entrepreneurship, leadership, education and training skills to develop and pitch their idea and compete to win grants for our school. 4 Austin Teaching Professions Magnet students, Kimberly Cuellar, Pedro Lopez, Angelica Santana, and Gabriela Segura WON a grant for Austin HS.
---
Austin High School
Super Bowl LI Houston Community Project
Congratulations to Stephanie Montoya being named as the Grand Prize Winner in the NFL Houston Community Project 51. Stephanie is a Senior in the Teaching Professions Magnet Program and a cadet for JROTC. She completed several community service projects in both organizations that qualified her for a chance to win 2 Tickets to Super Bowl 51 Opening Night at Minute Maid Park. She will get the opportunity to be part of the kick off event before Super Bowl 51 where both teams (Atlanta Falcons and New England Patriots) will come together for their first Media Press Event.
---
Furr High School
Green Ambassadors Help Create East End Greenbelt
Furr High School's very own Green Ambassadors help to lead a change in East End neighborhoods to transform their community from a food desert to a food forest. They're doing it by planting one fruit tree and one community garden at a time, linking their schools and neighborhoods to form a Houston East End Greenbelt . Furr High School's Green Institute is focused on preparing students for careers in renewable energy, energy efficiency, and environmental communications. To read the full article visit https://www.plt.org/story/from-food-desert-to-food-forest/ and to find out more about the Green Ambassadors visit Furr HS.