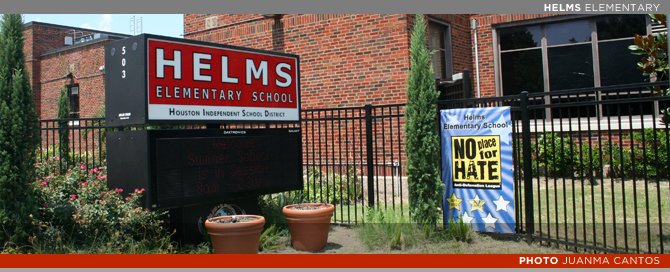 WELCOME TO HELMS

Eagle's Mission Statement

At Helms Elementary School, we nurture the total development of every child to become life-long learners ready to compete in our multicultural global society. This is accomplished through rigorous differentiated instruction with the active participation of parents, community and school in an enriching, collaborative, and safe environment conducive to learning.

School Expectations

Always arrive at Helms on time, in uniform, prepared, and ready to do your best.

Always show your Eagle Pride, walking quietly with your hands to yourself, and don't forget to smile.

Be respectful of yourself and others at all times.

Helms is your nest away from home so please keep it clean.

Supporting Parent Concerns/ Resolving Conflicts

If you have a concern related to your child's classroom experience:

1. Make an appointment with your student's teacher during their conference time to see if the issue can be resolved. Most issues are due to a lack of communication or misunderstanding and can be resolved with ongoing two way communication. A parent/teacher conference is the place to start.

2. If further attention is needed after an honest attempt to address your situation is made, please schedule an appointment with the principal.

If your concern is related to magnet issues such as busses, magnet applications, etc, please contact the Magnet Coordinator.

For all other concerns, questions, or comments, please contact the principal.




BIENVENIDOS A HELMS

Declaración de la misión de las águilas

En la Escuela Primaria Helms, buscamos el desarrollo completo de cada alumno para que se conviertan en personas con interés por aprender de por vida, listos para competir en esta, nuestra sociedad multicultural. Esto lo vamos a conseguir a través de una instrucción rigurosa y diferenciada con la participación activa de los padres, la comunidad y la escuela en un ambiente enriquecedor, colaborativo y seguro que conduce al aprendizaje.

Expectativas de la escuela

Llega siempre a Helms a tiempo, con tu uniforme, preparado(a) y listo(a) para hacer las cosas lo mejor posible.

Muestra siempre tu orgullo de águila, caminando en silencio sin mover las manos y no te olvides de sonreír.

Se respetuoso(a) contigo mismo y con los demás.

Helms es tu nido fuera de casa, por favor mantenlo limpio.

Apoyando las preocupaciones de los padres/Resolviendo los conflictos

Si tiene una preocupación en relación a la experiencia de su hijo(a) en el salón de clase:

1. Haga una cita con el maestro(a) de su hijo(a) durante su periodo de conferencia para ver si pueden resolver el problema. Muchos problemas se deben a una falta de comunicación o a malentendidos y pueden resolverse con una comunicación bidireccional fluida. Una conferencia padre/maestro es el lugar donde empezar.

2. Si necesita mayor atención después de haber hecho un intento sincero de tratar su problema con el maestro(a), por favor haga una cita con el director.

Si su preocupación es en relación a cuestiones Magnet tales como los autobuses, aplicaciones Magnet, etc., por favor pónganse en contacto con la coordinadora Magnet.

Para cualquier otra preocupación, pregunta, o comentario, por favor póngase en contacto con el director.