Congratulations Mrs. Ware!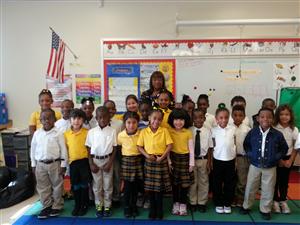 Mrs. Ware is a native of Louisiana who is married with three children. She is a proud Kindergarten Lead Teacher here at Young Preparatory Academy. Before becoming a teacher, Mrs. Ware was a teacher's assistant who one day had an epiphany; "Why not acquire a degree and become the teacher. I could give more back to society and the students if I were a teacher."
After much hard work and dedication, Mrs. Ware went on to obtain a Bachelor's of Science with a major in Sociology and a minor in Psychology from Texas Southern University. She also earned her Master of Education with a concentration in Reading Education from Prairie View A & M University.
Mrs. Ware was inspired to teach by God and believes that teaching is her calling. "I am convicted by that statement because, shortly after receiving my Bachelor in Sociology I was interviewed and offered a job at an insurance company. Instead of accepting the job, I said to the hiring personnel, 'I am sorry but I want to teach!' My gratification in teaching comes when a student comes to me with little knowledge and I help them grow and blossom tremendously."