Congratulations to Mrs. Melissa Samudio-Grothe
Young PREP's Teacher of the Month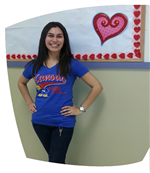 Melissa Samudio was born and raised in Houston, Texas.
She attended college at the University of Houston and majored in Hotel and Restaurant Management. As exciting as it was working as a Special Events Manager, she realized that it was not her true passion. Both of her aunts worked for HISD and were truly her inspiration for making the leap into the field of education.
After a long internal struggle, Ms. Samudio decided to enroll in an alternative certification program to obtain her Teaching Certificate. "It was one of the best choices I have made! This is my 3rd year teaching at Young and I am so grateful that I made it past my first year.
At times the road has been bumpy, but through the grace of God I have made it through. I love working with children and seeing that spark in their eyes when they have mastered an objective. In my spare time I enjoy spending time with my family, traveling, trying new cuisines, and couponing. I am truly blessed to be part of the Young Prep Family. Thank you all!"
One of Ms. Samudio's favorite quotes-
"Twenty years from now you will be more disappointed by the things that you didn't do than by the ones you did do. So throw off the bowlines. Sail away from the safe harbor. Catch the trade winds in your sails. Explore. Dream. Discover."
- Mark Twain