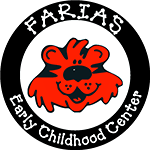 Armandina Farias Early Childhood Center
515 E. Rittenhouse Street
Houston, Texas 77076
(713) 691-8730
Welcome to Our School Family!
At Farias Early Childhood Center, we are committed to prepare your child academically and to foster the development of his/her social skills and emotional intelligence.
Our mission is to develop children who are creative, collaborative, confident, and capable critical thinkers.
We are thankful that you selected Farias Early Childhood Center to build solid foundation skills for your child in Emergent Reading, Emergent Writing, Math, Science, Social Studies, Fine Arts, Physical Development, Technology, and Social/Emotional awareness. Our teachers are highly trained in all content areas and are committed to providing a high-quality education for all learners in a safe and caring environment.
We encourage you to be actively engaged in your child's educational journey by:
· Attending parent meetings and workshops
· Reading all communication from the school
· Ensuring that your child attends school every day and be on time
· Communicating with your child's teacher
· Assisting with homework
· Registering as a school volunteer through VIPS and enrolling in the Parent Teacher Organization
· Reading daily to your child
We ask that you help us achieve our goal of thoroughly preparing your child for success by following Houston ISD's Attendance Policy. Please bring your child to school every day and be on time. When your child is not here, he/she loses valuable instructional time which may lead to delays in development. Remember that you are your child's first teacher and setting an example of good attendance will demonstrate to your child how important it is for him to be at school.
We wish to extend an invitation for you to attend the various school activities that will take place this year. We are also requesting that you register as a school volunteer through VIPS so that you can assist us with school activities and join us for field trips as a chaperone. We will be happy to help you with this process. Please talk to Mrs. Doria at the front desk.
I am honored and excited to be the principal of Farias ECC and I look forward to meeting you soon. Please join our School Family and let us work together to ensure that you child has a productive and enjoyable school year.
I wish you well,
Maria Solis
Principal
Centro de Educación Temprana Armandina Farias
515 E. Rittenhouse St.
Houston, Texas 77076
(713) 691-8730
¡Bienvenidos a Nuestra Familia Escolar!
En la Escuela de Educación Temprana Farías, nos comprometemos a proveer a nuestros estudiantes con las habilidades académicas y sociales necesarias para que sean exitosos en la escuela y en su futuro.
Nuestra misión es desarrollar estudiantes que sean creativos, colaboradores, seguros de si mismos, y capaces de ser pensadores criticos.
Estamos agradecidos que hayan escogido al Centro de Educación Temprana Armandina Farias para construir un fundamento solido de distrezas para educar a su hijo en Lectura Emergente, Escritura Emergente, Matematícas, Ciencias, Arte Fino, el Desarollo Físico, Tecnología, y conocimiento del desarrollo social/emocional. Nuestros maestros están sumamente entrenados en todas las materias académicas y sociales. Ellos se han comprometido a proveer una educación de alta calidad para todos los alumnos en un ambiente calido y seguro.
Les motivamos a que se mantenga activos en la jornada educacional de sus hijos de la siguiente manera:
Asistiendo a las juntas y los talleres dirigidos a los padres
Leendo toda comunicación enviada por la escuela
Asegurando que sus hijos asisten a la escuela cada día y a la hora indicada
Communicándose con el maestro de sus hijos
Asistiendo a sus hijos con la tarea
Registrandose como voluntario de VIPS y como miembro de PTO (Organización de Padres/Maestros)
Leéndole a sus hijos al diario
Es necesario que los estudiantes acuden a la escuela todos los dias para poder lograr todos estos objetivos. Cuando los estudiantes faltan ellos pierden horas valiosas de instrucción que son muy difíciles de recuperar y pueden retrasar el aprendizaje significativamente. Es por eso que les suplico que traigan a sus hijos diariamente a más tardar a las 7:20 a.m. para que ellos tengan la oportunidad de empezer su día aprendiendo. Acuerdese que usted es el primer maestro de su hijo y poniendo el ejemplo de buen asistencia demostrara a su hijo la importancia de estar presente en la escuela.
Les invitamos a que asisten en varias actividades escolares cual se llevaran de acabo durante este año escolar. Para poder asistir, debe de registrarse como un voluntario (VIPS) con Mrs. Doria. Ella es nuestra representante de padres. Ella estará disponible para ayudarle con el proceso.
Me siento honrada y emocionada de servirles como la directora de Farias. Me daría gusto conocerlos muy pronto. Unase a nuestra familia escolar y trabajemos juntos para asegurar que su hijo tenga un año escolar productivo y encantador.
Deseandoles bien,
Maria Solis
Directora