2007 - 2012 TEA Recognized School
Welcome to the 2014-2015 school year at K. Smith Elementary! Our school motto is: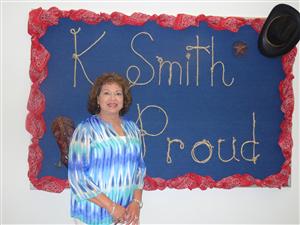 "Together We Will"
At K. Smith Elementary, we are
committed to providing a learning environment to help your child be successful.
In December 2013, we moved into our new two-story classroom addition.
In early 2014, design began on the final phase of the project, which includes a new cafeteria, kitchen, and library.
We expect the final
phase to be ready for the 2015-2016 school year.
As always, we appreciate your patience and cooperation during this last phase of construction.
The morning and dismissal procedures have changed. Our school doors open at 7:40am. For dismissal students in grades 2nd-5th are sent to their younger sibling(s) in PK, K or 1st so parents will only have one pick up at the front of the school. If there are no younger siblings, students in grades 2nd-5th will continue to be picked up as usual along the gate on Chrystell.
The spring 2014 STAAR test results were positive for Katherine Smith students. In the TEA Accountability System, K. Smith Elementary not only "Met Standard" in the 4 indices required, but also earned 5 out of the 6 possible Distinction Designations. Our total number and percent of Indicators Met was 31 out of 32 or 97%. Our teachers and staff will continue to work with parents to help prepare our students for success because the standards will be getting higher in the coming years.

I am excited to start the 2014-2015 school year with new and important initiatives aimed at helping our students succeed - Literacy by 3 and APTT (Academic Parent Teacher Teams).

Gloria Salazar, School Principal