Principal's Message
Welcome to the 2015-2016 school year at K. Smith Elementary! Our school motto is: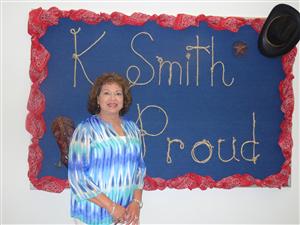 "Together We Will"
Dear Parents and Students,
I would like to acknowledge that we had a great first semester. We are looking forward to an even better second semester of continued learning. Our students are now preparing for the upcoming Spring assessments, STAAR for grades 3rd through 5th, and IOWA or Logramos for all grade levels. Please take note that we still have three Saturday tutorials remaining: 03/28, 04/11, 04/18.
One of our school wide goals is to help our students become stronger readers and writers. As our summer approaches, here are a few opportunities for your family to participate in ways to help in the continuation of your child's learning. Read with your child daily for 30 minutes, join your local library, attend the Children's Museum Free Thursday nights, Discovery Green, and Miller Outdoor Theater. Some additional home activities to help with math skills may include simple things such as going along on grocery store trips, creating the grocery list, counting correct change, measurement – observing poundage and weight of items. The children use the following on-line resources on campus and if there is a computer for them to use at home they will be able to continue using them as well; TTM, Dreambox, MyOn, and I-Station. The children know their log-on information, however if you need this information please do not hesitate to contact the campus.
Parents please remember that the work you do with your child at home is crucial to their success at school and in life.
Thank You
Gloria Salazar, School Principal