Principal's Message
Welcome to the 2015-2016 school year at K. Smith Elementary! Our school motto is: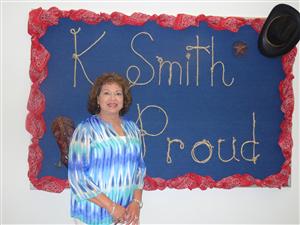 "Together We Lead"
Dear Parents and Students,
I would like to welcome all to our new school year. As you may have noted we are in the final completion stage of our building construction. Completion is scheduled for end of September at which time our children will have their much needed cafeteria. We have implemented NEW arrival and dismissal procedures for the safety of all students. As with any change the onset can be challenging and we are asking for your patience and cooperation as we continue to work on making this a smoother procedure.
Other exciting news includes our schoolwide Leader in Me initiative which is designed to help teachers develop leadership skills in their students. Helping students discover their own unique strengths allows teachers to find opportunities for every child to shine and to be a leader. We will be incorporating the common language of the 7 Habits into all curriculum areas. Please remember that at K. Smith Elementary, we are committed to providing a safe and learning environment to help your child be successful.
Thank You
Gloria Salazar, School Principal