T.H. Rogers Mission Statement
The mission of T.H. Rogers School is to provide all students with the educational opportunity to develop to their fullest potential. The school will ensure that a supportive learning environment will integrate the special populations, provide enhanced learning opportunities, and reflect a continuing commitment to excellence.

---
T.H. Rogers Vision Statement
T H Rogers aims to be "a lighthouse beacon that safely guides all children into harbors of success." School Principal David Muzyka believes that "children learn to see value in all people, and appreciate their peers and their teachers alike."
---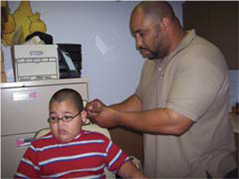 THE PROGRAM FOR THE DEAF AND HARD OF HEARING (PDHH)
The Program for the Deaf and Hard of Hearing serves students of all ethnic and socio-economic backgrounds from age 3 through Middle School. The Program's philosophy is Total Communication which encourages teachers to use an array of materials and resources to help the students reach their maximum potential.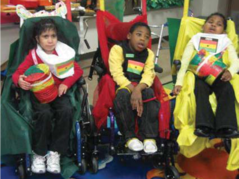 THE PROGRAM FOR THE MULTIPLY IMPAIRED (MI-PSI)
The Multiple Impaired program serves students aged 3 - 22 whose disabilities severely impair their performance in cognitive and developmental areas. An Admission, Review, and Dismissal (ARD) committee determines if a student's educational needs would be best met in an MI class. T. H. Rogers serves students who live in the West Region and whose unique needs cannot be appropriately met in a school closer to their home.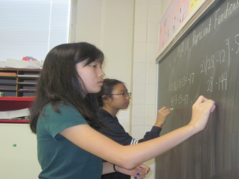 THE PROGRAM FOR THE GIFTED AND TALENTED (VANGUARD)
The T H Rogers Vanguard Magnet Program provides a stimulating and challenging environment that fosters development in academic skills, creativity, and leadership in Gifted and Talented (GT) students. Our Kindergarten – Eighth grade curriculum is taught through an interdisciplinary approach to study reading, writing, mathematics, social studies, and science while emphasizing research and critical thinking skills.
---