As part of HISD's PowerUp program, all students at Sam Houston MSTC will be issued a laptop to use at school and at home. Before students receive their computers, all parents must attend an informational meeting to learn more about PowerUp and the rules and responsibilities regarding the computer.
Last Meeting Date
Coffee with the Principal
Payment Deadline:
The l
ast day to pay or begin a payment plan for the non-refundable security deposit is Friday, December 13, 2013. This will ensure receiving a laptop in January. Payments are being accepted in the main office or in Office 111.
Sam Houston Theatre Presents....Seussical The Musical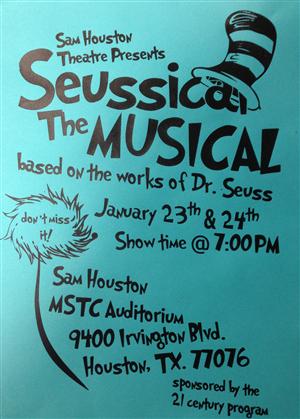 A person's a person no matter how small!

Join the Cat in the Hat as she takes Jojo on an epic journey of Thinks! Watch as they journey to the Jungle of Nool where Gertrude McFuzz is trying to catch the attention of Horton the Elephant with the not-so-helpful assistance of Mayzie LaBird. Meanwhile, the Sour Kangaroo is taking matters into her own hands--Horton is talking to a dust speck, and that just isn't right! Meanwhile on Who, Jojo's parents have decided that the best course of action is to send him to military school with the dreaded General Genghis Khan Schmitz! What's a poor Who to do?! Throw in some Wickersham Brothers, Bird Girls, and a whole cast of other zany characters and this is one musical extravaganza you don't want to miss!

Plus, Sam Houston has been chosen to be part of the annual Tommy Tune Awards hosted by Theatre Under the Stars at the Hobby Center--so this production might very well be award-winning!
The show runs for two nights only! Thursday, January 23rd and Friday, January 24th at 7:00pm in the Sam Houston MSTC auditorium. Don't miss it!
T
eamwork
I
ntegrity
G
enerosity
E
ngagement
R
igor
S
uccess