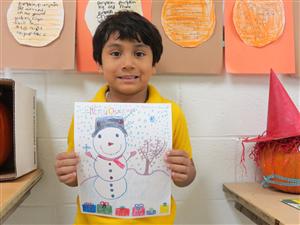 Holiday Card Entry Contest
We want to congratulate Agustin N. for his outstanding entry representing Pleasantville Elementary in the district-wide official holiday greeting card contest; even though he was not a district finalist we congratulate him for being OUR WINNER!
---
PTO Popcorn Fundraiser Winners

We want to congratulate our top sellers for the PTO Fall Fundraiser!
Class: Ms. Stewart's Prekindergarten Class
We want to also acknowledge and congratulate all of or participants for a JOB WELL DONE! Also, parents we thank you for your support.
---
MLK Oratorical Contest 2013
It is that time of year again, and we are excited to announce that Pleasantville Elementary School is one of the HISD elementary campuses that has been invited to participate in the 18th Annual Martin Luther King, Jr. Oratory Competition and Celebration this year! Pleasantville proudly represents each an every year in the MLK Oratorical Contest. The campus-based preliminary competition was held on November 5, 2013, the three placed campus winners were - 1st place: Reginald B., 2nd place: Shakeira H. and 3rd place: Aniyah J. So, this year representing Pleasantville Elementary School is Reginald B. We want to congratulate all of our participants who all exhibited a great deal of thought, expression and hard work on their speeches.
---
It is the policy of Pleasantville Elementary School and the Houston Independent School District not to discriminate on the basis of age, color, handicap or disability, ancestry, national origin, marital status, race, religion, sex, veteran status, or political affiliation in its educational or employment programs and activities.


Las directivas del Distrito Escolar de Houston prohiben cualquier tipo, de discriminación en base a edad, color, minusvalidez, ascendencia, nacionalidad, estado civil, raza, religion, sexo, servicio militar, o proficiencia lingüística en sus programas y actividades, académicas y en el empleo de individuos.