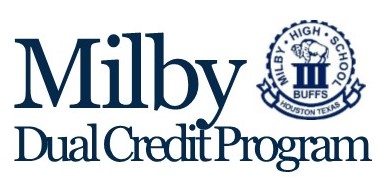 TSI and TSI Preparation

Students wanting to take Dual Credit classes must qualify. Some students may qualify with STAAR EOC scores. Others will qualify with the TSI (Texas Success Initiative Accuplacer) test. Some with both.

Milby will test students on campus this year.

The testing is scheduled for the following Saturdays:

January 25

February 15

March 7

April 4

May 16

More dates may be added as needed.

Testing is scheduled from 9:00 am to 1:00 pm. The tests are untimed and students may leave when finished.

Students should bring only their school ID or other photo ID and dress comfortably.

Students will be given feedback on their scores on the day of testing or by the following Wednesday during Strong Time.

All students should prepare for the test.

Below are links to resources available online.

Follow this link to online practice tests. You simply create an account with your email address and take practice tests. You get immediate feedback. You will first have to select TSI from a menu. After you do that, the website remembers you.

https://accuplacerpractice.collegeboard.org/

The next link will lead you to more College Board resources, including the one above, Get the free ACCUPLACER practice app. There are a few downloadable PDFs with practice questions and test information. Look at the Next-Generation Reading Sample Questions, Next-Generation Writing Sample Questions, WritePlacer Guide with Sample Essays, and Texas Success Initiative Sample Questions. Math practice is also here.

https://accuplacer.collegeboard.org/student/practice

The College Board websites above should provide you with enough resources to prepare you for the test.

The following two websites are shared by Houston Community College for TSI preparation. These are for-profit sites that sell test preparation materials. They do include many free practice quizzes. You will have to search within the websites for the free TSI resources.

Mometrix is a publisher of test preparation books. We even have their TSI prep books in the Milby library. You can check one out if you'd like. Their website includes a few free online practice tests. www.mometrix.com/academy

www.test-guide.com is another place you can go for free quizzes. Like Mometrix, they sell test prep material. However, you can take free quizzes.