Science Fair Winners Announced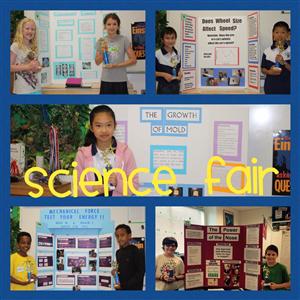 Congratulations to the following students:
4th Grade
1st place: Adelina Carrettin and Jane Lange
2nd place: Bryan Moore and Jayden Koh
3rd place: Noah Mequanint and Nahun Yikalo
5th grade
1st place: Barton Block and Jack Crider
2nd place: Annie Lin
3rd place: Alejandro Portillo and Keely Sanze
---
Lovett Elementary Takes First Place Youth Group in Art Car Parade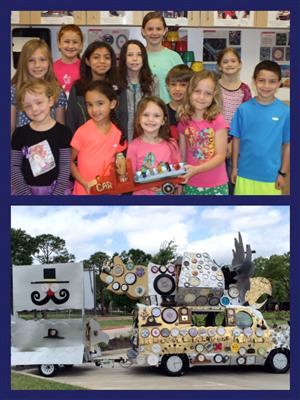 Lovett Elementary art students saw their hard work pay off when their art car entry, "OWL"ways a Good TIME,took First Place in the 2015 Orange Show Art Car Parade Youth Group Division on Saturday, April 11, 2015.
Lovett students began collecting clocks and watches from their families and members of the community in September of last year. A generous donation from the San Jacinto Chapter of National Association of Clock and Watch Collectors ensured students have would enough pieces to complete the project as envisioned by Lovett Elementary's art teacher, Rickey Polidore, Jr.
---
Lovett Students Skype with Middle Grade Author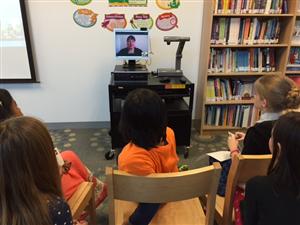 A lucky group of fourth graders had the experience of a lifetime when they participated in a Skype call with Ingrid Law, author of middle grade books
Savvy
and
Scumble
. Law answered questions from the students about the writing process, where she gets inspiration for her stories, and how her life changed after her firs
t published book. She also gave a few teasers to her upcoming book
Switch
due out in September 2015

.
---
Lovett Team Takes Third Place in District Reading Competition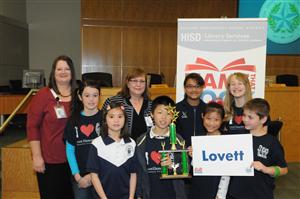 Pictured above: (bottom row, left to right) Annie Li-Krueger, team captain Jayden Koh, Julia Hu, Lance Bell; (second row) Brinley Scott; (third row) team sponsor and Lovett librarian Mrs. Babaian, Director of Houston ISD Library Services Liz Philippi, Eleanor Kershner, Melora Jackson.

On Thursday March 5th
, Lovett's 3
rd
– 5
th
Grade Name That Book Team defeated several other Houston ISD schools during preliminaries, thereby qualifying for the final round the following day at the Hattie Mae White Professional Building. Despite being down by as many as three points during the first half of the final competition, the Lovett team rallied and found themselves in a three-way tie for second place. The Lovett team hung through two tie-breakers and ended up taking third place in the finals. We are all very proud of the seven children who spent countless hours reading over thirty books in order to represent Lovett Elementary during Name That Book.
---

Lovett Donates to Zero2A Hundred Foundation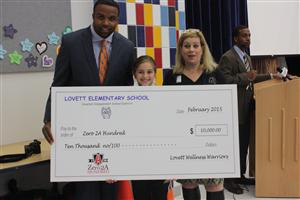 Lovett Elementary donated $10,000 to the Zero 2A Hero Foundation, a charity run by retired Houston police officer Jason Ray. Students raised the money through their participation in the Jog-a-thon held earlier in the school year.
---