LOVETT HAPPENINGS!
Lovett Elementary Creates Art Car for Houston Art Car Parade!


"Disc is Owl We Do It" wins Second Place in Art Car Parade Youth Division thanks to the hard work of Lovett Visual Arts students, teachers, and community.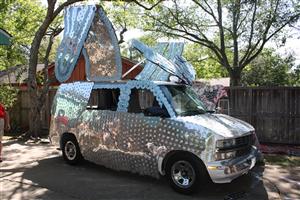 First Grade Students & The Art Project,Houston
Collaboration Exhibit & Celebration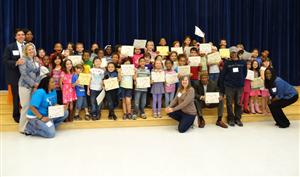 Lovett Elementary 1st graders and artists from The Art Project, Houston were invited to write letters inspired by the writing prompt "The Perfect Place in the Whole Wide World is . . ." The responses were traded between the two groups and used as inspiration to create watercolor paintings. On April 10, artists and writers, children and adults were brought together for a celebration and exhibit at Lovett Elementary. Pictured are the featured artists, Lanecia Rouse, Project Manager of TAPH (front, right) and Laura and Roy Nichol, Re-Imagining Life Together (standing, left). The Art Project, Houston facilitates the mental healing and transition of men and women from the homeless community. This was a celebration of art, writing and possibilities. Best of all, many of the adult artists from this project are no longer homeless.

Lovett Wins HISD 3-6 Name That Book Competition!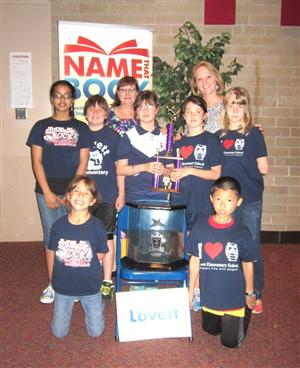 Lovett Elementary's 3rd- 5th grade Name That book team recently took 1st place at the HISD Name That Book final competition. More than 80 elementary schools competed in this year's Name That Book competition sponsored by HISD Library Services. The first place Lovett team was presented with the 1st place trophy as well as the glass encased 1st place "traveling trophy" which will remain on their campus throughout the school year. Pictured are: Back row (l to r) Library Services's Liz Phillippi, and Lovett team sponsor, Librarian Mrs. Coulthard. Middle row( l to r) - Shravya Aparasu, Chance Chase, Katalina Li-Kroeger, Brinley Scott, Melora Jackson. Front row (l to r) Renee Navarro and Jayden Koh.