Lovett Elementary School is a 2016 Magnet Schools of America
National Award of Merit Recipient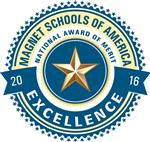 ---
---
Looking for a way to battle summer boredom?
---
Congratulations Lovett First Graders
Winners of the 2015-2016 Police Week Art Contest
---
Lovett Students Take Top Prize at Art Car Parade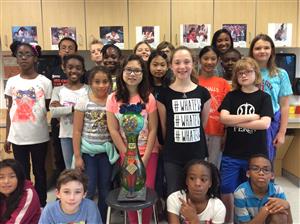 Congratulations to our Lovett art students, who presented their 2016 Art Car Parade entry, OWLWAYS in the ARTISTIC Frame of Mind, this past Saturday. The car earned first place in the Overall Best Art Car Parade.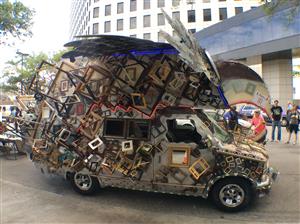 ---
B
ryan Moore A
dvances to City-wide Spelling Bee
Bryan Moore will compete against other district winners in a Houston area Spelling Bee on April 2nd at the University of Houston. The event will be televised on Channel 8.
Bryan is pictured here with his mother, who also won the Houston ISD Spelling Bee in 1986.
---
Congratulations to Spelling Bee winner Bryan Moore

!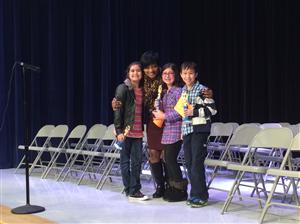 From left to right: Zayna Irshad, third place; Lovett Principal Dawn Thompson; Daphne Kaufman, second place; and Bryan Moore, first place. Bryan will compete against other campus winners in the citywide spelling bee later this year.
---
Reduce, Reuse, Recycle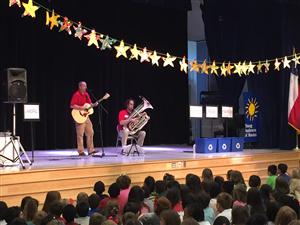 The crew from
Tom's Fun Band
stopped by on November 18th to help Lovett students identify ways they can help the environment. Some audience members had the chance to put their new knowledge to use by sorting recyclables before returning to class.
---
Lovett Students Honor Local Veterans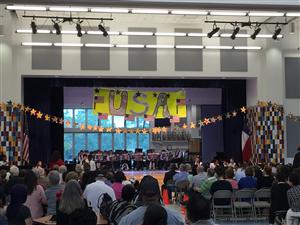 On November 11, 2015, Lovett students in the band, orchestra, and choir honored local veterans with patriotic songs and recalling the sacrifices our veterans have made. Thank you to our veterans!

---
Are you concerned about safety on the Internet?
Houston ISD now has a
Cybersafety Website
for students, parents and faculty.
---
Please consider donating your time to Lovett by visiting the link below.
---
WHOS TV Presents "LOVE IT AT LOVETT"