To promote Wesley's strong math and literacy focus, this fun night will give you ideas and strategies to use at home. These strategies will reinforce what your child is learning at school and show them that Math and Reading are FUN!!!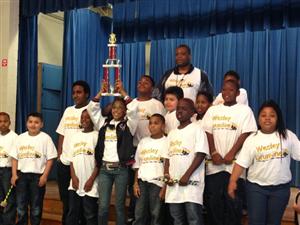 Congratulations to Mr. Jackson and the Wesley Eagles Drum Line! The students participated in the Multi-Cultural Dance and Music Festival at Sutton Elementary School on Saturday - March 29, 2014.
Our 2013-2014 Teacher of the Year is Kindergarten teacher,
Ms. LaTanya Poole.
Congratulations to Ms. L. Poole for her daily efforts to help our students succeed!